Wednesday, October 5, 2016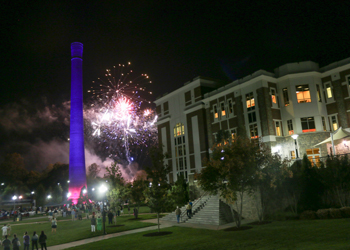 On Tuesday, the VCOM-Carolinas campus shined a light on the growing Northside community like never before. The medical school in Spartanburg, South Carolina was selected to participate in a special installation by Ohio-based artist Erwin Redl, part of a city-wide public art challenge funded by Bloomberg Philanthropies. Seeing Spartanburg in a New Light lit up the city with crowds visiting nine installations throughout the evening, and at the end of the night, community members circled the illuminated smokestack at VCOM-Carolinas for the Grand Finale of live music, food on the grill, community fellowship and a fireworks display.
"VCOM is thrilled to be part of this special installation, illuminating the historic smokestack on our campus and shining a light on the renewed vitality of the Northside area of Spartanburg," said Natalie Brown, Director of Communications and Marketing at VCOM-Carolinas.
In 2015, the City of Spartanburg was selected as one of four communities nationwide to take part in Bloomberg Philanthropies Public Art Challenge, a new program to support temporary public art projects that celebrate creativity, enhance urban identity, encourage public-private partnerships, and drive economic development.
The temporary art installation, funded by $1 million from Bloomberg Philanthropies, is a partnership among internationally recognized light and digital media artist Erwin Redl, the Chapman Cultural Center, the City of Spartanburg and civic leadership. The project is using a collaborative, neighborhood-based art-making process to enhance community policing and public safety efforts aligned with the annual National Night Out program. VCOM would like to give special thanks to the students and staff of St. Ignatios Preparatory School in Spartanburg for spending the afternoon and evening assisting Facilities staff in making this event a great success for the College and for the community.
The light-based installations by Redl include the illuminated smokestack at VCOM and another at Beaumont Mill, floating islands in a neighborhood lake and a nearly 7,000-pane, five-curtain mobile in downtown Spartanburg, and will remain in place through at least April 2017.
View the Seeing Spartanburg in a New Light: Grand Finale photo gallery
For more information, contact Natalie Brown, Director of Communications and Marketing at VCOM-Carolinas, at 864-327-9814 or nbrown [at] vcom.edu.