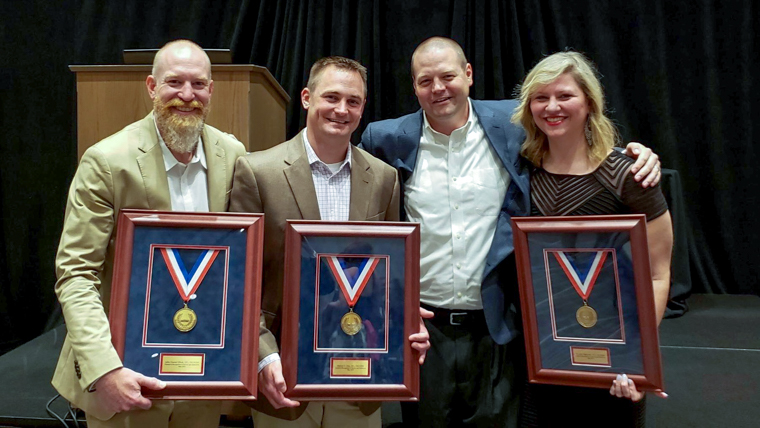 Sports Medicine physicians and students gathered at the American Osteopathic Academy of Sports Medicine (AOASM) and Association of Ringside Physicians (ARP) 2019 Joint Clinical Conference May 1-6 in Austin, Texas. The AOASM is dedicated to the advancement of physicians' knowledge through education, research, and promotion of the art and science of sports medicine, emphasizing the use of osteopathic principles and concepts in the practice of comprehensive health care. 
"VCOM had a great conference week at AOASM," said Mark Rogers, DO, CAQSM, Associate Professor for Family Medicine, Discipline of Sports Medicine. "I am proud to share that we took home several awards and honors! Projects included posters by VCOM students, fellows and faculty. The podium presentation was presented by VCOM student Janine Appleton," added Dr. Rogers. Former VCOM faculty member Shawn Kerger, DO was installed as President of AOASM this year.
Award-winners included: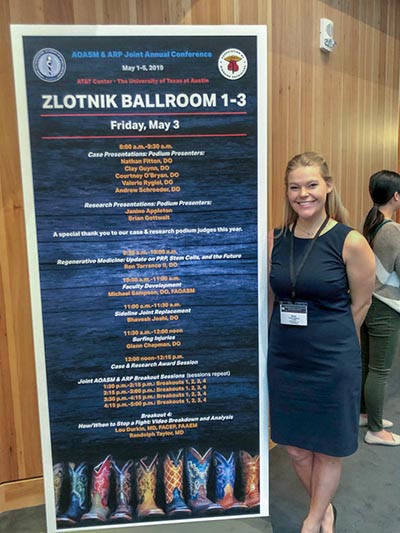 1st Place Podium Research - EKG screening in Division 1 Athletes 
Presented by Janine Appleton  (VCOM-Virginia Class of 2021). Other researchers are: Janine Appleton, Mark Rogers, DO, P. Gunnar Brolinson, DO, Katie Harris, DO (VCOM-Virginia Class of 2014), Thuy Pham, DO (VCOM-Virginia Class of 2014), J Rivero and Mike Goforth, Virginia Tech.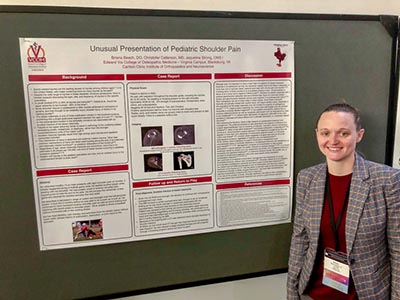 1st place Poster - Unusual Presentation of Pediatric Shoulder Pain 
Brianna Beach, DO (Sports Medicine Fellow); Chris Catterson, MD; Jacqueline Strong (VCOM-Virginia Class of 2022)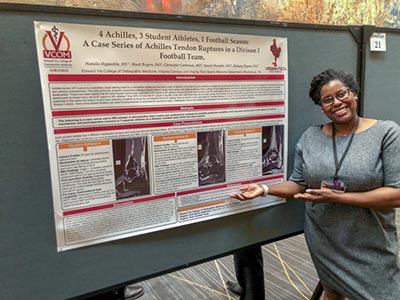 2nd Place poster - 4 Achilles, 3 student athletes, 1 football season: A case series of Achilles' tendon ruptured in a division 1 football team
Natalie Hyppolite, DO; Mark Rogers, DO; D Womble, H Ziyout.
Besides the awards and honors, educational credits were made available to conference participants, including AOA Council on Continuing Education credits. Overall, it was a stimulating and successful experience for all involved.