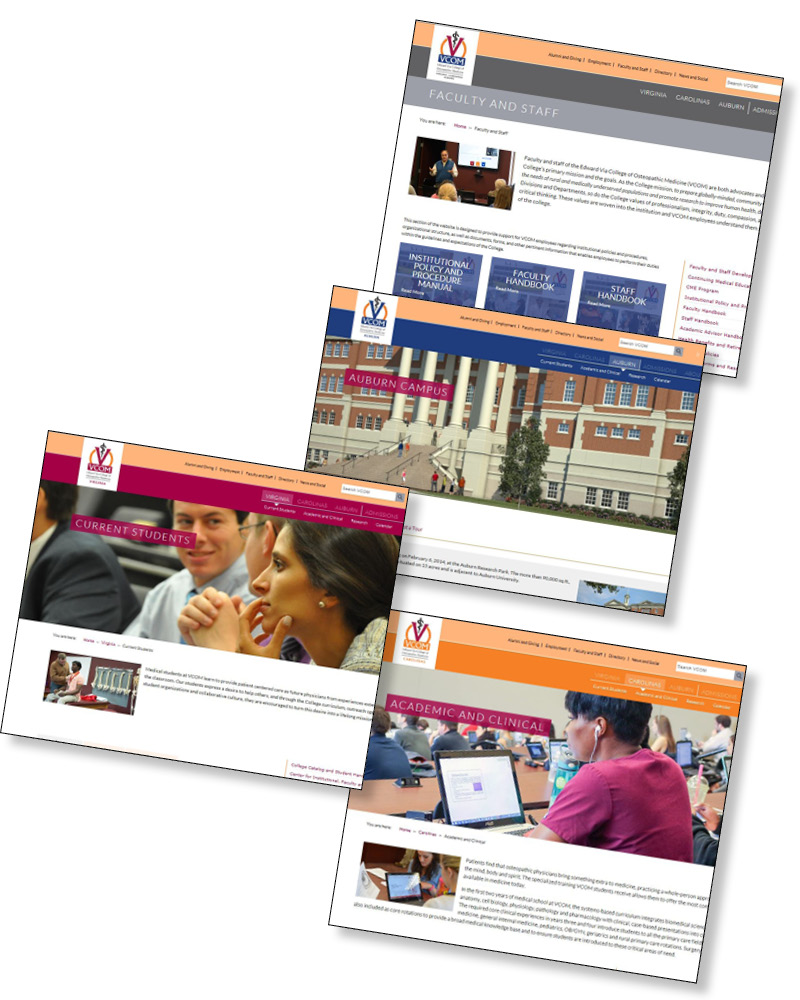 The Edward Via College of Osteopathic Medicine (VCOM) has exciting news to share. On Monday, July 17, the college will roll out a brand new website design at www.vcom.edu.
VCOM, having opened its first campus in Blacksburg, Virginia, in 2003, has grown significantly over the past 13 years. Since 2011, the college established its second campus location in Spartanburg, South Carolina and its third in Auburn, Alabama in 2015. With three campuses, the college has tripled the number of future physicians being trained each year to further the VCOM mission of caring for those most in need. The growth of the college led to the need for website improvements that will meet the needs of prospective medical students, current VCOM students and staff, and others seeking information about the college.
In order to streamline the redesign process, the Division of Communications, Marketing, Website and Publications at VCOM teamed up with Access Advertising and Public Relations in Roanoke, Virginia. With Access on board, the VCOM Communications team identified their main goal in redesigning the website as developing a unified web presence for the college that would allow for unique content from all three campuses.
VCOM President Dixie Tooke-Rawlins, DO, was involved in the VCOM website redesign process from the very beginning. "We are excited to be able to offer a totally revamped website for current students, prospective students, faculty and staff," Dr. Tooke-Rawlins said.
"As the College grew, we saw a need for the website to be more engaging and useful to our users. Our focus, as always, is on our students, their success and preparing well-trained osteopathic physicians to care for those most in need," said Cindy Shepard Rawlins, VCOM Assistant Vice President for Communications, Marketing, Website and Publications
After the communications team and college administration defined their goals for the website, Assistant Vice President Rawlins set out to begin the redesign process. With assistance from Access, Rawlins conducted student surveys and coordinated focus groups with departments across all three campuses in order to gain insight and input from a variety of sources. Lydia Vargas, in her new position as Director of Web Applications Development and Graphic Designer, was an essential part of the communications team in coordinating web development efforts for all VCOM campuses.
Dr. Tooke-Rawlins also addressed a new focus of the website, research. "As the College continues toward major growth in research and discovery, the new website also reflects that initiative," she said. "We have placed new emphasis on the research section of the website and I invite students to see how they can get involved in research at VCOM."
The new and improved VCOM website will be released on July 18 at www.vcom.edu. Site users can look forward to Campus-specific content and branding for each of the three campus locations, with a focus on admissions and research activities. The new site will also feature a searchable employee directory that includes faculty bios, publications and research. With the assistance of various departments on each campus, the communications team will be able to share up-to-date news and events throughout the site, and users will find design and navigation improvements to ensure their site visit is both user-friendly and clearly informative.
If you have any questions regarding the website, contact Cindy Shepard Rawlins, Assistant Vice President of Communications, Marketing, Website and Publications at 540-231-5419 or via email at crawlins [at] vcom.edu.