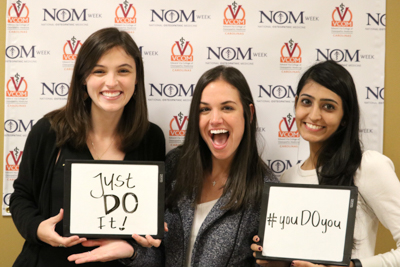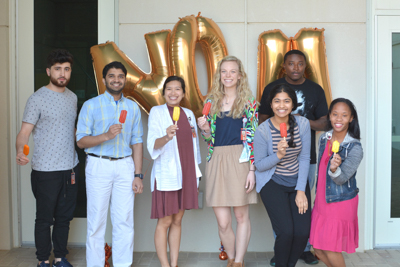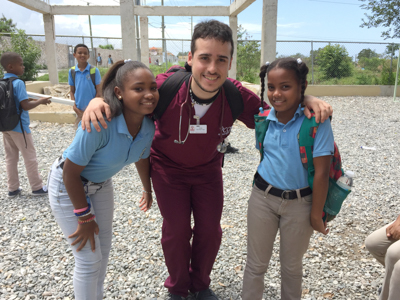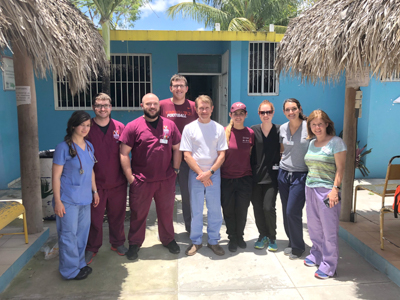 VCOM joined the American Osteopathic Association (AOA) the week of April 15-21, 2018 to celebrate National Osteopathic Medicine (NOM) Week. The goal of NOM week is to bring the profession together to raise awareness of osteopathic medicine and DOs in communities across the nation. Events were held on each campus to celebrate osteopathic medicine and the care and service that the profession brings to local communities, the nation and the world.
On the VCOM-Carolinas campus, students took photos in front of a banner and wrote messages about why they chose to pursue a career in osteopathic medicine and how it impacted their lives. The photos were posted on social media sites, especially Instagram. Therapy dogs visited the Carolinas campus on Wednesday, April 18. A "Healthy Q&A" session was held with speaker Jaime Fivecoat that same day.
At the VCOM-Auburn campus, many activities were held throughout the week to celebrate NOM week. On Monday of that week, a discussion panel about obesity was held that included several faculty members including Dani McCullough, PhD, David Stephen, DO and Annie Kirby, PhD, RD.
The WILD (Wilderness) Club, a subgroup of the American College of Osteopathic Emergency Physicians (ACOEP) student organization, continues to train for participation in upcoming medical adventure races. All VCOM-Auburn students were invited to train and participate in the evening run on Tuesday of NOM week. On Wednesday, students were treated to popsicles on the patio at the conclusion of the morning's classes. To wrap up the week's events, a "Donuts for future DOs" social was held in the lobby.
As on the Carolinas campus, VCOM-Auburn campus students were encouraged to participate on the #youDOyou photo contest held by the AOA, in which prizes could be won. The goal of this contest was for students at osteopathic medical schools to submit photos depicting how they exhibited a distinctive osteopathic approach to care and service in their communities.
VCOM-Virginia's block break coincided with NOM week this year. However, 23 of the students from the campus served their "world community" by attending a medical mission trip to the Dominican Republic that week. During their time in the D.R., students saw more than 500 patients, dispensed more than 800 prescriptions and went to five different communities during the week. Also accompanying the students were four U.S. physicians, a pharmacist from the Appalachian School of Pharmacy, a licensed PA and several volunteers.