Friday, November 10, 2017
Lives are shaped by the ways we treat each other. When those with resources, skill, connections, and heart come together to dedicate their time to serving those in need, community is created, friendships are formed, healing takes place and ultimately the world is made a better place.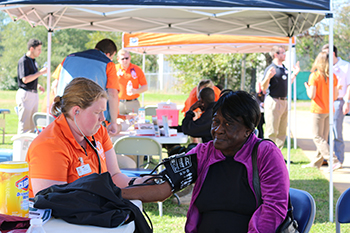 These are the very ideas that inspired the Edward Via College of Osteopathic Medicine (VCOM)-Carolinas Department of Preventative Medicine and Public Health to develop Wellness Initiative for our Neighborhood (WIN), an ongoing collaborative preventative wellness event. WIN provides free public access to an extensive range of health screenings, medical and prescription services, information booths, flu shots and more.
The first WIN event was held on October 27, 2017, at the Macedonia Baptist Church in Spartanburg. This bright Friday afternoon marked the debut of the VCOM-Carolinas newly renovated Mobile Medical Unit. The unit has two exam rooms equipped for medical and dental assessments, allowing patients to be cared for on location, with dignity and privacy.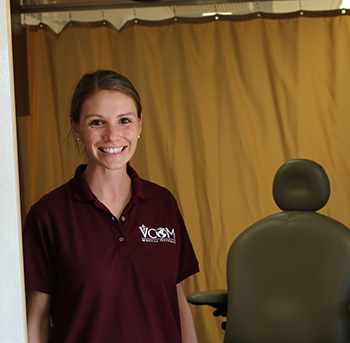 The event was free to the public, regardless of insurance status, and took place indoors and outdoors at the church. Outside, VCOM-Carolinas students and faculty served patients under tents and in the unit. Indoors, more services were offered, including vision screenings and prescription access. Staff and health professions volunteers were on hand to answer questions and provide direction and resources according to patients' needs. This event also provided free food and transportation assistance.
An integral part of the VCOM mission is to meet the needs of medically underserved populations, which is the purpose of WIN. Many of the patients who are served by traveling free clinics, such as the VCOM-Carolinas mobile unit, are low-income residents who often work multiple part-time jobs without insurance options. With such limits on time and resources, accessing medical care can be challenging to impossible.
By teaming up with organizations such as ReGenesis Health Care, AccessHealth Spartanburg, Spartanburg Regional Healthcare System, Spartanburg Lions Club, Healthy Smiles of Spartanburg, Welvista, Clemson University, and the Hub City Farmers Market, the WIN event went beyond offering access to doctors, nurses and other health professionals; this event provided educational tools and resources with the power to impact the lives of patients in positive and far-reaching ways.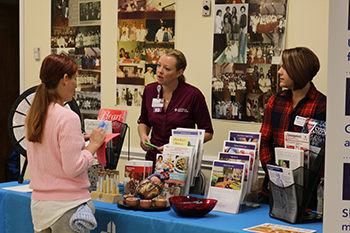 VCOM-Carolinas is grateful to this supportive community for joining with us to make the first WIN event possible. This sort of collaboration just shows that there is no limit to what we can accomplish when our acts of service inspire others to serve as well.