Thursday, January 5, 2017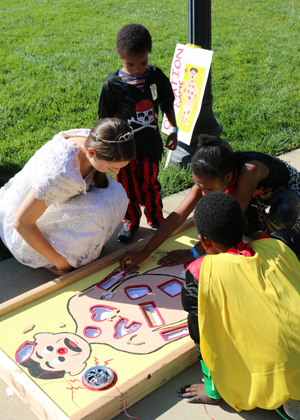 Congratulations to the Edward Via College of Osteopathic Medicine (VCOM) - Carolinas Pediatrics student organization on being named National Student Chapter of the Month by the American College of Osteopathic Pediatricians (ACOP).
The Pediatrics organization was selected for this honor by the ACOP due to its students' volunteerism and community education efforts during the month of November 2016. Starting off the month, students hosted VCOM-Carolinas fifth annual Pediatric Wellness Fair, free for children and parents in the community, and incorporated this year's national theme of food insecurity by educating participants about local resources, serving a nutritional lunch at no cost, and providing extra food for the weekend to families in need.
"The Pediatric Wellness Fair is a huge opportunity for VCOM students to give back to the Spartanburg community," said Stephanie Farber, Class of 2019, Vice President of the VCOM–Carolinas ACOP student organization. "At this event, we are able to provide resources in regards to healthcare and overall general wellness in one convenient location over a five-hour period, while providing fun and games for children as well."
Following the Wellness Fair, the Pediatrics organization hosted an event for local second graders as part of the PLAY (Promoting Lifelong Activity in Youth) Program, which was developed by students at VCOM-Carolinas to help children facilitate a desire to make healthy life choices, and to learn fun, safe, and creative activities that will empower them to make a commitment to lifelong wellness. Class of 2018 VCOM students Vanessa Hortian and Meghan Milligan, members of the Pediatrics organization, received the 2016 Excellence in Public Health Award from the United States Public Health Service Physicians Advisory Committee for their efforts in establishing the PLAY Program.
Later in the month, the Pediatrics organization volunteered at the annual NOURISH Finish Line Arts Park following the Self-Esteem Stomp 5K and 1 Mile Walk/Run, in collaboration with Mental Fitness, Inc. and the Spartanburg chapter of Girls on the Run. VCOM students hosted a coloring and relaxation station for race participants as part of the event to emphasize ways for children to nourish themselves both physically and mentally.
As part of the Student Chapter of the Month recognition, the ACOP Pulse Newsletter published a feature on the VCOM-Carolinas Pediatrics student organization. Read current and archived issues at http://www.acopeds.org/pulse-newsletter