Monday, November 21, 2016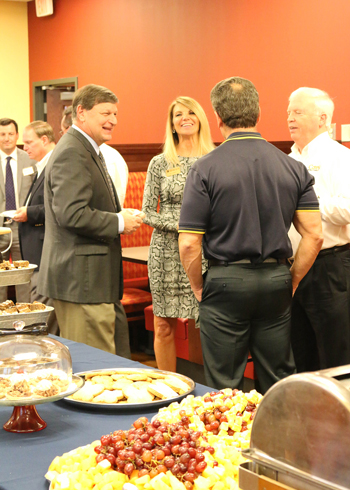 On November 15, the VCOM-Carolinas campus in Spartanburg, South Carolina, opened its doors to host a fun, informative and engaging evening for local business professionals and community members. The Business After Hours event, coordinated in partnership with the Spartanburg Area Chamber of Commerce, is a monthly occurrence designed for business and relationship-building in a relaxed, after work setting.
The theme of the Business After Hours event was "Giving Thanks by Serving Our Community," which provided VCOM with the opportunity to share its mission of preparing future physicians to serve those most in need. The College has developed a number of partnerships since opening in Spartanburg in 2011, and has been welcomed by the community with open arms. Hosting Business After Hours on campus gave VCOM a chance to personally thank the Spartanburg community, and gave local business professionals a new perspective on the College and how our students, faculty, and staff give back.
Throughout the event, attendees met and caught up with colleagues and acquaintances, all the while enjoying delicious appetizers prepared by the Butterfly Foundation, located just a block from VCOM. Attendees also participated in tours of the campus and door prize drawings throughout the evening, taking home small gifts from locally-owned businesses such as Two Samuels Restaurant, Little River Coffee Bar, Dottie's Toffee, and the Hub City Book Shop. Throughout the night, VCOM staff and students manned information booths, taking time to speak with event participants about campus initiatives from international outreach in the Dominican Republic, El Salvador and Honduras, to educational programs benefitting local high school students including Mini-Med school and the Summer Enrichment Experience program.
The event at VCOM-Carolinas marked the first time Business After Hours began at 4:30 pm, an hour earlier than the normal 5:30-7:30 pm start time, and the Spartanburg Chamber was pleasantly surprised by the results. More than 60 attendees, not including VCOM staff and students and over half of whom arrived in the earlier first hour, checked in at the networking event on Tuesday evening.
VCOM-Carolinas would like to thank the Spartanburg Area Chamber of Commerce for sharing the opportunity to host Business After Hours, and also recognizes the efforts of the students, faculty, staff and administration who worked through the evening to ensure the event was a great success, and shared the VCOM story with all who attended.
To find out more about how #VCOMgives, visit www.vcom.edu/vcomgives.
Event Photo Gallery: https://vcomcarolinas.smugmug.com/Business-After-Hours-at-VCOM/