Tuesday, November 7, 2017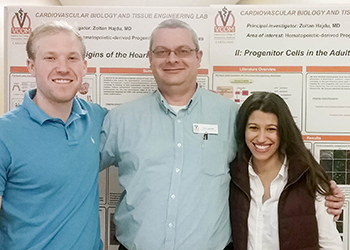 As students become acclimated to life in med school, they may find themselves wondering what areas of research will most appeal to them, what avenues are available to pursue their specific interests, what opportunities will they have to ask questions and make discoveries? To help answer these questions and get students oriented on their future research tracks, the Edward Via College of Osteopathic Medicine (VCOM)-Carolinas hosted a Fall Research Fair.
On Thursday, October 26, 2017, students gathered in the biomedical halls of the VCOM-Carolinas campus to see the research projects conducted by their professors. Faculty members presented posters from 11am-2pm to give students an idea of the breadth of topics they explore on campus and in collaboration with labs in the region. This was an excellent time for students to ask questions and explore how they can get involved in these and future research endeavors conducted during their academic careers and beyond.
We look forward to seeing the ways our faculty and student continue to collaborate and innovate in research projects that improve human health!