Wednesday, October 26, 2016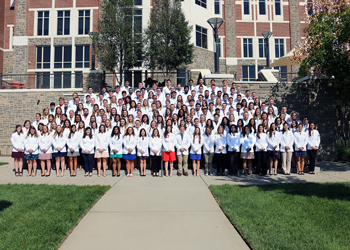 The Edward Via College of Osteopathic Medicine (VCOM) – Carolinas campus held a White Coat Ceremony to honor the Class of 2020 on Sunday, October 23, 2016. The ceremony was held in Twichell Auditorium on the campus of nearby Converse College.
VCOM faculty, family members, guests of the Class of 2020, and members of the community attended the ceremony as 164 medical students were cloaked with their first white coats. This event was the sixth White Coat Ceremony held by the VCOM–Carolinas since the branch campus opened in 2011.
In addition to their White Coats, each student received the "Humanism in Medicine" pin, donated by the Arnold P. Gold Foundation, and a stethoscope engraved with his or her name from the South Carolina Osteopathic Medical Society.
"The purpose of the White Coat Ceremony is to mark each student's transition from preclinical to clinical studies, with an emphasis in rural and underserved communities in the Carolinas," said Timothy J. Kowalski, DO, FACN, Dean of VCOM–Carolinas. "The theme of the ceremony VCOM holds for its students is tied closely to the core values of the college: professionalism, duty, critical thinking, compassion, integrity, patient centered care, knowledge and altruism. We are very proud of the young men and women who have chosen VCOM to begin their careers of service to others."
VCOM students are formally cloaked in white coats during the October ceremony, shortly after completing the first block of medical education on campus. The ceremony is a rite of passage, marking each medical student's progress toward his or her career as a physician. More than 100 medical schools worldwide hold White Coat ceremonies for their students, emphasizing the importance of both scientific excellence and compassionate care for patients.
Please go to vcomcarolinas.smugmug.com to see photos of the day's events.