Tuesday, November 22, 2016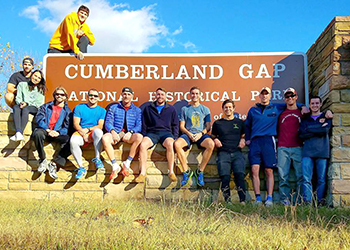 It took just two tries for the VCOM-Auburn Wilderness Medicine Group to reach the top in the latest MedWar adventure race challenge. On October 22, 2016, 12 student members of the Wilderness Medicine group within the VCOM-Auburn ACOEP Organization (American College of Osteopathic Emergency Physicians) competed in MedWar TN 2016, sponsored by DeBusk College of Osteopathic Medicine in Harrogate, Tennessee.
Each MedWar is organized and conducted by the faculty and students from the medical school that sponsors the race, and involves teams of three or four competitors. MedWar (Medical Wilderness Adventure Race) combines wilderness medicine with adventure racing to create unique events designed to teach and test wilderness survival and medical skills. There are currently 10 races scheduled around the country for the 2016-17 race season. According to White, the organization that promotes and organizes each race publishes a specific curriculum that serves as the basis for each medical challenge. This curriculum is what White uses as the foundation for the skills that he teaches his students.
MedWar Tennessee consisted of 31 teams of three individuals running, mountain biking, orienteering and completing seven medical simulations. The race stretched for approximately 13 miles and 6,000 ft. of ascent and descent along the mountainside trails of the scenic Cumberland Gap National Park.
"Not one of us had competed in these races prior to MedWar Southeast last April," said Jeremy "J.J." White, DO, PhD, VCOM-Auburn's Discipline Chair for Emergency Medicine. In VCOM-Auburn's first race, which was held at Fort Gordon, Georgia, one of the VCOM teams brought home a silver medal. "We tried to take an organized, strategic approach to the preparation and the race itself," said White. "We fielded three teams of four individuals, and ended up placing second, fifth and twenty-seventh out of 31 teams," said White.
For MedWar Tennessee this October, White said that the VCOM-Auburn team members used what they had learned from their first attempt. Team members started training three months in advance of the event. They fine-tuned their training and equipment choices for the different terrain and weather challenges. The training and experience paid off as VCOM-Auburn's four teams ended up placing first, third, sixth, and nineteenth out of 31 teams.
White said that each team was scored not only on their overall time, but also on how quickly and correctly they completed each medical scenario. Because this is a "self-contained" race, White said that each participant and team has to plan, prepare and carry their own food, water and medical equipment during the event. This includes any supplies and medications that the team thinks may help them safely and efficiently complete both the physical and medical challenges of the race. This amounts to an extra 10 to 20 lbs. of gear that each participant needs to be comfortable carrying for the four to six hours it takes to complete the event.
At MedWar Tennessee, medical scenarios included delivering a pregnant camper's baby in a two-person tent, inserting a surgical airway in a hiker with acute anaphylaxis, treating a hiker with a pit viper bite to the arm, pitching a tent blindfolded and stabilizing an impaled object in a victim's eye. And if carrying a large load of gear up and down a mountain while treating numerous creative medical conditions wasn't enough, the racers had another challenge. The theme of the 2016 MedWar Tennessee race was "the Apocalypse."  Racers had to complete all of their tasks while fighting off zombies!
Second-year VCOM-Auburn medical student William Hamrick said that the workshops put on by the Wilderness Medicine Club helped the students the most in preparation. "We were able to develop some necessary skills for the medical and wilderness aspect of the race, as well as get ourselves in better physical shape with the group runs that followed every workshop," said Hamrick, who also serves as the ACOEP Wilderness Medicine Chair at VCOM-Auburn.
According to Hamrick, the climbs were the toughest part. "Running up and down thousands of feet really takes a toll on your energy, and it's tough to find mountains to train on here in central Alabama," Hamrick said.
White was pleased with the performance of the VCOM-Auburn teams. "I am so proud of each of our students who committed their time and energy to these events. They prepared, trained and competed at a level that truly set them apart from the rest of the schools at these events. It is just another example of what makes our VCOM students so special," said White.
Hamrick said that he enjoyed going to MedWar and competing with schools from all over the country to see how VCOM-Auburn measured up. "I think the great success that every team had speaks a lot to what we have here at VCOM-Auburn," said Hamrick. "I can't speak enough about the commitment and drive of all the people who competed from VCOM. It's really no surprise that everyone did so well when you saw the smiles on the faces of people who were working so hard toward a goal," Hamrick added.
The next MedWar race for the VCOM-Auburn team will occur in April of 2017. White said that no matter how the teams placed, he wanted them to have a mentally and physically challenging, but safe and enjoyable experience. "This is also a chance for me to show the students one of the most unique aspects of emergency medicine, and to illustrate that it is possible to incorporate into a medical career your interests both in and out of the hospital," said White. "Overall, I hope our early success inspires each new class to field some teams, enjoy the process of preparing and competing in these events and learn a lot of practical medical information along the way," White concluded.