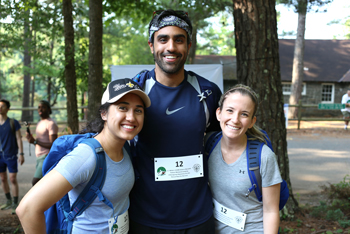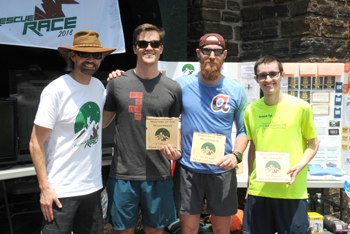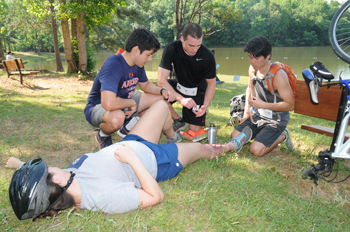 On a beautiful, but hot Saturday morning in May, 19 teams of VCOM-Auburn students converged on Chewacla State Park in Auburn, Alabama for a wilderness medicine adventure race. In all, 57 competitors ran and hiked 10 miles of trail, biked three miles and kayaked ½ mile. The most interesting part of the race included five simulated medical scenarios where students were required to treat injured patients with the supplies that they carried in their packs.
Saturday's event was an independent campus race based on MedWar Adventure Races, hosted by VCOM-Auburn's Wilderness Medical Club. This type of adventure race was developed as a tool for teaching and testing the knowledge, skills and techniques of wilderness medicine, and for promoting teamwork and collegiality among competitors. Normally teams from multiple medical schools compete in these races, however, this year's race was organized as an all-VCOM-Auburn event. This race was essentially a "dry run" in order to evaluate Chewacla State Park as a proper venue for the race, and VCOM-Auburn's ability to organize and execute such an event.
VCOM-Auburn second-year student Corban Caldwell served as a volunteer at the event and said that the nearby state park was a great setting for the event. "Chewacla is perfect – it is in a centralized location with great facilities, plenty of camping and nearby hotels with close proximity to Interstate 85," said Caldwell. "We hope to host our own event that brings in competitors from other medical schools and grow this into a premier, regional wilderness medical race," Caldwell added.
VCOM Auburn second-year student Matthew Pickich said he was glad that the race was an all-VCOM event this year. "I think this gives us a chance to get away from the books and work together, get know each other better and have a few laughs in the process," said Pickich.
"This gives students opportunities to apply techniques and skills in a high-pressure environment, under stress just like in a real emergency scenario," said Ernest Philon, another second-year student who also happens to be a U.S. Army medic. Pickich and Philon worked at a medical scenario station as volunteers simulating medical conditions – one suffering altitude sickness, the other a snake bite. Racers were evaluated on how they assessed and treated injured subjects that they encountered on the trail.
"This is perfect as it gets the students working together in a rustic environment in teams and outside the clinic and hospital," said VCOM-Auburn Assistant Professor Randy DeArment, DO. "It gets them thinking on their feet and simulates emergency medical experiences that they might encounter in their careers," added DeArment.
In addition to the five simulated medical scenarios, Students were required to answer questions or perform simple tasks at various checkpoints during the race. The ability to perform basic navigation with a compass and a map are required of racers, and it is not unusual for teams to get lost or take the wrong route during a race, shaving off critical time. "It was a lot of fun, but the most challenging part was the directions," said Allison Martin, MS, an anatomy instructor at VCOM-Auburn. Martin's team, which happened to finish the race in second place, included two students and one faculty member. "It is great seeing various clinical procedures be applied in an outdoor, simulated emergency environment outside the classroom, and seeing the students make the connection," Martin added.
"During an emergency room shift you are mentally tired," said third-year student Michael Oberle, who served as a volunteer at Saturday's race. Oberle competed in a previous MedWar race in Fort Gordon, Georgia where his team finished third place overall. "Out here, you are physically tired while having to make important medical treatment decisions," Oberle added. According to Oberle, these races require more mental toughness. "You can train for the physical part to a certain degree, however, you've got to have that mental toughness to carry you through the race successfully," Oberle said.Following the conclusion of the race, students feasted on barbeque that had been cooked overnight by VCOM-Auburn's official pit master and Assistant Professor, Kaelin Young, PhD. Following the lunch, awards were given to the top teams. Approximately $6,000 in prizes generously donated from Auburn-Opelika businesses were given to competitors and raffle winners. Taking first place in the race was a group of third-year students including James Boone, William Hamrick and Gunnar Magnuson (team Those Old Guys Who Hang Out at Parties). Second place went to Meredith Byl, Allison Martin and Jonothon Segars (team DO, eh?). Coming in at third place were Juan Serna-Gonzales, Kyle Johnson and Bruno Moraes (team Lucid Interval).
Race organizer J.J. White, DO, PhD, VCOM-Auburn's Emergency Medicine Chair, was pleased with how the race went. "I think it went as well as could be expected, especially putting something together of this magnitude," said White. "Students got some good, challenging scenarios with unstable patients in an austere setting during a physically exhausting race," White added. White said that students had been training for the event twice a week for two months prior to the race. No stranger to these races, White has prepared numerous teams for MedWar events, including teams that finished first and third in 2016 and second and third in 2017 at the MedWar Tennessee race. "Additionally, special credit goes to the students who worked so hard to put this on -- namely all the officers in the emergency medicine club and the wilderness medicine interest group, and also the surgical, OB-GYN and sports medicine clubs for developing the medical simulations," White added.