Thursday, October 20, 2016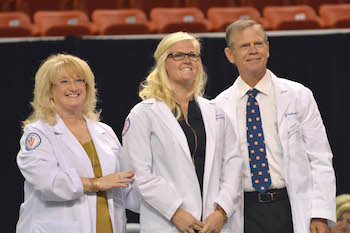 Friends and family members of VCOM-Auburn class of 2020 students cheered and clapped as their loved ones walked across the Auburn Arena stage Saturday, October 15, 2016. This was the second class of students to receive their white coats at the Auburn campus of the Edward Via College of Osteopathic Medicine.
The White Coat Ceremony is an important rite of passage at many medical schools that encourages a psychological contract for professionalism and empathy in the practice of medicine. After walking across the stage and being cloaked by the Auburn Campus Dean and another VCOM faculty member or doctor family member, students were presented with a VCOM-Auburn branded stethoscope and a Humanism in Medicine pin. At the conclusion of the program, Auburn Campus Dean Elizabeth Palmarozzi, DO, FACOFP, led the newly-cloaked students in the Osteopathic Oath.
"This is a ceremony of distinction and honor that highlights the great responsibility that comes with wearing a white coat, representing VCOM and representing Osteopathic medicine," said Dean Palmarozzi. We are so glad that the family and friends of these students are able to come to Auburn and proudly watch them receive their coats," Palmarozzi added.
Mark Baker, DO, FAOCR, President-elect and board member of the American Osteopathic Association, was the featured speaker for the event. Also giving remarks were VCOM Board Chairman John G. Rocovich, Jr., JD, LLM, and VCOM President and Provost Dixie Tooke-Rawlins, DO, FACOFP. Jacob Taunton, Class of 2020 President, gave a few remarks and presented the class statement.
The SOAP Notes, an a cappella singing group made up of VCOM-Auburn students, sang the Star Spangled Banner at the opening of the White Coat Ceremony, and helped to close the ceremony with the VCOM Alma Mater.
"We want the White Coat Ceremony to be a special event for the students and their families," said Bill King, VCOM Associate Vice President for Student Services. 'We want everyone to feel good about being at VCOM and about being part of the VCOM family, because we truly are a family," King added.
"It was a really great day to celebrate this milestone with family and close friends. It was a refreshing experience to gain perspective about our future in medicine and to grow closer to our classmates," said Katelyn Petitfils, a class of 2020 member.
"I enjoyed the fact that we were able to each have our own special moment when we were cloaked, whether by one of our great faculty or by a member of our family, and yet the ceremony went by so smoothly and quickly," said class of 2020 President Jacob Taunton.
After a much-needed rain that morning, the skies cleared, allowing for a bright and beautiful afternoon for the picnic on the VCOM-Auburn campus that followed the ceremony. VCOM faculty, staff, students, friends and family enjoyed an outstanding meal, along with some great fellowship at the tables under the tents.
Concurrent with the picnic was a merchandise fair where everything from coffee cups to neckties were being sold to raise funds for student organizations. Additionally, family and friends were able to tour the VCOM-Auburn campus building. Students, their family and friends also gathered on the front steps at VCOM-Auburn and in front of the sign for photographs showcasing the students in their newly-acquired white coats.
Please go to www.facebook.com/vcomauburn/ to see photos of the day's events.