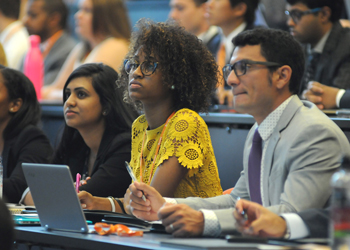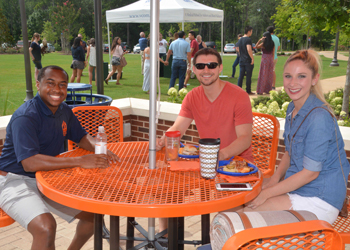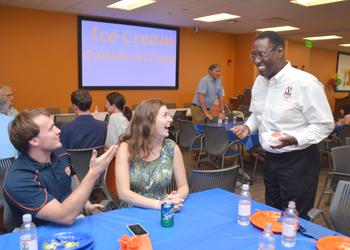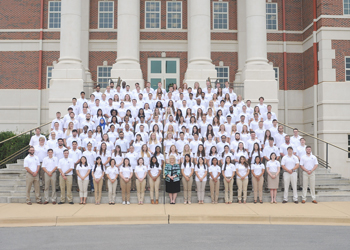 Under the watchful eyes of a pair of hawks, an owl and an eagle, new students and their families gathered Sunday, July 16 for the VCOM-Auburn welcome picnic. The picnic kicked off two days of campus orientation that would lead into class for the members of the VCOM-Auburn class of 2021. Incoming students and their families enjoyed delicious barbeque while getting to know each other and the VCOM-Auburn faculty. Four magnificent raptors from the Auburn University Southeastern Raptor Center were on hand, including a bald eagle.
In addition to food and photographs with the raptors, everyone's favorite mascot, Aubie, made an appearance. Aubie, Auburn University's award-winning tiger mascot, entertained the crowd with his antics and delighted the children in attendance. Attendees also got to feast on some delicious Italian ice scooped right out of the truck parked next to the patio.
On Monday, students were welcomed to campus by VCOM Chairman John G. Rocovich, Jr., JD, LLM, Campus Dean Elizabeth Palmarozzi, DO, FACOFP, and VCOM Vice President for Students Services Bill King, MBA. Students were given presentations about the school curriculum, VCOM facilities, academic counseling, student health insurance and financial aid. A lecture by Palmarozzi about the history of Osteopathic medicine kicked-off the students' classroom instruction. The new students also had lunch with Palmarozzi and VCOM-Auburn faculty members, where they continued the process of getting to know each other better.
Tuesday, the final day of orientation, began early as students gathered on the steps in front of the VCOM building for a group photo. Overcast skies spared the students from the July Alabama heat and glare as they took positions for the photo. Students were given presentations on developing effective study habits, ethics and professionalism, student organizations and the Auburn and Opelika, Alabama community. Orientation concluded with a fun PowerPoint slideshow that featured interesting facts about the class. After the slideshow and a send-off by VCOM-Auburn faculty and staff, students filtered down to the multipurpose room for ice-cold Steel City pops.
"Everyone is so happy to be here and about identifying as a medical school student. It feels like a dream," said first-year student Tahseen Munshi. After orientation, Munshi said that all the students were ready to jump into the material and get started. "We are eager to get to know each other as a class, make this our full-time job and dedicate ourselves to this long but rewarding journey," Munshi added.
VCOM-Auburn Assistant Vice President for Student Services Jake Williamson, PhD, said he was glad to see the orientation activities proceed smoothly, and happy to see the students get to know each other. "Orientation is exciting for faculty and staff and a whirlwind for students," said Williamson. "We get to welcome 162 new members of the VCOM family, and the students have two very full days of learning all the basics of being a medical school student," Williamson added.
The next big event scheduled for the class of 2021 will be the White Coat ceremony in the Auburn Arena on October 15.