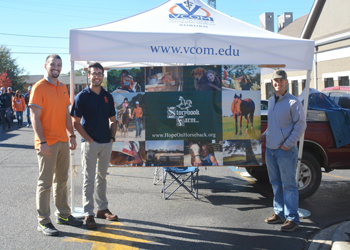 Will Ruffin, a VCOM-Auburn second-year medical student, has been on a mission to support a local charity that offers horse-riding therapy to children that face various forms of adversity.
Storybook Farm, in Opelika, Alabama, offers therapeutic opportunities to approximately 1,000 children throughout the year. Children that come to Storybook Farm may be facing a number of obstacles including mental and physical disabilities or bereavement situations. Storybook Farm does not charge families for therapy and relies on fundraising and donations to support its mission.
In addition to regularly volunteering at the farm, VCOM-Auburn students raised more than $15,000 for Storybook Farm by parking cars in downtown Auburn, Alabama during Auburn University football game days this fall. Regions Bank generously loaned out its parking lot to Storybook Farm during home football games. Leaders at Storybook turned to Will Ruffin, a regular volunteer at the farm, to organize volunteers to staff the lot. Ruffin is a VCOM-Auburn second-year student and also serves as president of the VCOM-Auburn student chapter of the American College of Osteopathic Family Physicians (ACOFP).
Ruffin said that he told Storybook Farm leaders that if he could get the majority of VCOM-Auburn's organizations to assist, he would take on the job. Each Saturday a different organization helped ACOFP with the parking lot. Ruffin also noted that approximately 30 VCOM-Auburn students contributed several hours of their time to the game day parking lot fundraiser, along with a few spouses. According to Ruffin, proceeds from the game day parking lot fundraiser will go toward operational funds to maintain Storybook Farm.
In addition to being able to ride horses at Storybook, children may experience the many small animals that roam the farm, including dogs, cats, goats and a miniature horse. A handicapped-accessible garden has just been completed at the farm as well. The garden not only offers children the experience of being able to tend fruits, vegetables and flowers, but also serves as a platform to teach children and the community about nutrition and diet.
VCOM-Auburn students also played an important part as volunteers during the construction phase of the garden at Storybook. On one volunteer day in March of 2016, Ruffin and other VCOM-Auburn students mixed soil and concrete in donated shoeboxes to create "stone" walls for the raised garden beds.
"Knowing that our work is for a good cause, a place that is here for kids with disabilities and helps them with equine therapy, is meaningful," said Ben Pare, a VCOM-Auburn class of 2019 member and volunteer at the farm.
Dena Little, the founder and director of Storybook Farm, said that her work at the farm was a walk of faith. "When you look at these kids' days, I can't say that I ever have a bad one," Little said. She also noted that parents could help other parents by talking with and supporting each other. "Families can sit out here, watch the kids ride, and realize they're not walking alone," said Little.  She also noted that many of the children that come to Storybook are suffering heartache and loss, with few cost-free options to help them recover.
Storybook Farm utilizes 16 horses to provide riding therapy and relies on the help of numerous volunteers throughout the week. Auburn University veterinarians donate their services to care for the horses. Organizers make the therapy even more fun for the kids by having an Olympic sports theme, along with an Olympic ceremony. Horses are named after storybook characters, with the names engraved on plates by the horse stalls in the centrally-located barn. Children come to Storybook Farm from ten counties in Alabama and Georgia, some driving almost 3 hours to get to the farm.
"So much of Storybook is the personalities of our volunteers, said Wade McKinney, Director for Marketing and Grant Development at Storybook Farm. "It is not only their hard work but their love, passion and interest in Storybook and the children and their families," McKinney added.
Ruffin noted that VCOM organizations and their student members have played an intricate role in helping ACOFP and the Student Osteopathic Medical Association (SOMA) aid Storybook Farm over the past year. According to Ruffin, more than 60 VCOM-Auburn students have shown up to volunteer at the farm itself. "Manual labor is no small thing to ask of most medical students, but all the volunteers have been more than willing to fix fences, clean stalls, move dirt, build raised foundations for a garden, pull weeds, park cars at the Regions Bank parking lot and do anything asked of them," said Ruffin.
Ruffin said that it was rewarding to see students who are soon to be professionals held in the highest esteem in society humble themselves enough to do such basic chores. "The folks at Storybook Farm and I are forever grateful to those students who took time out of their busy schedules to help," Ruffin added.
To find out more about Storybook Farms and their mission to help children facing challenges, go to www.hopeonhorseback.org.