Friday, February 17, 2017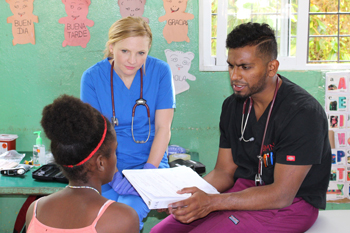 Students and faculty from the Auburn campus of the Edward Via College of Osteopathic Medicine (VCOM-Auburn) completed a medical mission trip this January to Punta Cana, Dominican Republic. Preceptors from VCOM-Auburn included Dean Elizabeth Palmarozzi, DO, FACOFP, Terri Plundo, DO, FACOFP, RN, Associate Dean for Clinical Affairs, David Plundo, DO, MPH, FACOFP, Associate Dean for Graduate Medical Education and trip leader J.J. White, DO, PhD, discipline chair for emergency medicine. VCOM alumnus Reza Karimianpor, DO, traveled with the group, joining local Dominican doctors Carolina Martinez, MD, and Starkys Calvillo, MD. The group flew from Atlanta, Georgia directly to Punta Cana for the weeklong trip.
Thirty-eight students and faculty members attended this mission trip, and traveled daily by bus to various temporary clinics in schools and churches. Approximately 420 patients were seen in four different clinics.
Patients were initially seen in a triage area, then subsequently issued a waiting number. When called, they saw a doctor in an exam area, and were issued a prescription, if needed. Patients needing further care were assigned to a local doctor for follow up.
For the first two days of the mission trip, students from VCOM-Virginia and VCOM-Carolinas joined VCOM-Auburn students at the clinic sites. These five Virginia and Carolinas students were in the Dominican Republic for a month-long international outreach clinical rotation.
The VCOM-Auburn group also toured the Oscar de la Renta Pediatric Care Center that is under construction in Verón, Dominican Republic and will be opening in the future. "This is a beautiful clinic that will have labs, an emergency room a pharmacy and exam rooms," said Lopez. The clinic will also feature a children's park, and a center for public health education. VCOM donated office furniture and medical furniture and equipment to the clinic.
"After gaining their bearings on the first day, students did a fantastic job the rest of the week as they treated patients," said Miriam Lopez, VCOM-Auburn's International outreach coordinator. "Students were processing patients in a very efficient and thorough manner, which was great to see," added Lopez.
"This trip gave me the opportunity to turn nearly two years of what seemed like continuous exams into real-life clinical experience," said Chet Wilson, a VCOM-Auburn second-year student. "This trip not only improved my clinical skills as a future physician, but also reminded me of my passion for this career path," Wilson added.
"I am so glad that I decided to go on this trip to the Dominican Republic as it was such an amazing experience, said Chelsea Angelocci, a VCOM-Auburn second-year student. "I am so thankful to have had the opportunity to travel, explore and learn so much about medicine and patient care from such a unique setting and point of view," Angelocci added.
"Our lives will forever be changed due to this amazing experience," said Terri Plundo, DO, FACOFP, Associate Dean of Clinical Affairs at VCOM-Auburn. "It was exciting seeing the change in the students physical diagnosis and examination skills from the beginning when they have doubts about their abilities to the end of the week when they have developed their skills and confidence," added Plundo.
"The magic of this trip was seeing every level of our extended VCOM family working together for the benefit of the Dominican people, including our students, alumni, spouses, coordinators, clinical chairs, associate deans, vice provost, and our campus dean," said trip leader J.J. White, DO. "This is just one example of what makes our medical missions and international outreach program so special," White added.
This is the third medical mission trip for students and faculty from VCOM-Auburn. In October of 2016, a group from VCOM-Auburn traveled to Santa Rosa de Copan, Honduras. The next VCOM-Auburn medical mission trip will be in April of 2017 to the Dominican Republic.