Wednesday, February 28, 2018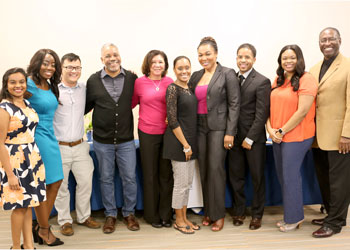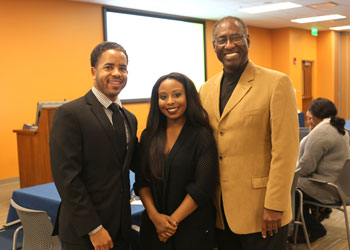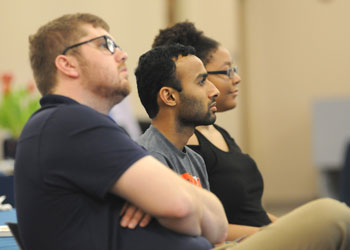 As part of black history month events at VCOM–Auburn, a minority physician panel discussion was held Friday, Feb. 16 in the VCOM–Auburn multipurpose room. A group of six physicians answered student questions, discussed the challenges they faced as a minority and also offered some outstanding career advice. Gary Hill, DO, FACOI, VCOM–Auburn Associate Dean for Multicultural Affairs, opened the panel with a few words about the importance of increasing diversity in higher education.  However, Hill said that these efforts should be undertaken while encouraging and mandating excellence. "No one wants to achieve under a lower bar," he remarked. Hill said that he was excited to hear the stories of the physicians on the panel, and noted to students that the evening's guests had all gone above and beyond in their medical careers.
The first member of the panel to speak was Tahira Prendergast, MD, a plastic and reconstructive surgeon in Columbus, Georgia. Prendergast, who is from Jamaica, discussed the difficulty of being a foreign-trained minority in the male-dominated field of surgery. "There is a stigma with foreign trained doctors where people think you don't have as much training," Prendergast said. Prendergast noted that female surgeons are typically paid less than male counterparts and that it is more difficult to build a practice as a female, something that one of her male counterparts on the panel confirmed. Despite the difficulty that Prendergast faced, she noted that she enjoyed using her hands for work. Prendergast said that her job offered a lot of flexibility and variety in treating patients. "Plastic surgeons can operate from head-to-toe," said Prendergast. "It is great to be able to restore patients' looks after accidents and surgeries," Prendergast said. She also touted the benefits of working in a private practice, which allows her time to be at home with her kids at night.
Jennifer Atkins, MD, is a pediatrician in the Phenix City, Alabama and Columbus, Georgia area. Atkins said that she had always wanted to be a physician, and was the first in her family. She had thought about becoming a surgeon, but enjoyed working with children, being able to laugh all day and watch her patients grow up. Atkins noted that she had had been working a second job in telemedicine to pay off large private medical school loans. Atkins urged students to be proactive when negotiating contracts with employers. "Compare salaries and know what you are worth," said Atkins. She also urged students to consult other physicians and mentors when considering contracts.
Another panel member had some good advice for students starting out in their jobs in medicine. "Write down what you want in a practice," said Nicholas Jones, MD, FACS, a plastic surgeon in the Atlanta, Georgia area. "That way you know what is most important to you and you can find a happy medium," Jones added. Like Prendergast, Jones said that he derived much happiness in working with his hands and seeing his patients' lives changed by plastic and reconstructive surgery. Jones said that the driving force in his professional life wasn't income, it was flexibility. His three-day-a-week schedule allows time for family, travel and for coaching basketball, one of his great passions. Jones, a New Orleans native, said his pediatrician always told him that he would become a doctor. He also remarked that he enjoyed plastic surgery because of the variety that it offered. "There's so many different ways to get to the same endpoint in plastic surgery," he said. Jones also stressed the point of setting goals and figuring out how to get there, despite adversity.
When the topic of families came up, Patricia Wade, MD, an internal medicine physician in the Auburn-Opelika, Alabama area, noted that changes are always a possibility in one's medical career. "Sometimes you have to make tough choices, depending on the needs of your family," said Wade, who has three children. Wade stressed that no matter what point a physician was in their medical career, they needed to strive to do their best. Wade said that her favorite aspect of treating patients was being a diagnostician. "I love to investigate, solve mysteries and develop a plan," said Wade. "I like taking ownership of a patient," she added.
"Medicine is a remarkable way to spend your life," said Wade's husband, Michael Williams, MD, a cardiologist, who always knew that he was going to be a doctor. "My uncle was a rural family practice physician and as kids, we would get farmed out to relatives during the summer instead of camp," said Williams. "Being a rural doctor, he worked every single minute and treated people cradle to grave," Williams added. However, when asked about challenging situations with patients, Williams had an upbeat assessment of dealing with situations involving race issues. "There will always be challenges, but you can let it define you, or you can define it," Williams advised. Williams had the privilege of being honored in January by the J.W. Darden Foundation, an organization that exists to memorialize the legacy of Opelika's first African-American physician.
Making your work fun was one of the tips that Opelika OB-GYN physician Njideka Obiekwe, MD, FACOG, gave to medical students in attendance. "I don't let medicine control me," said Obiekwe. "Sure, medicine is serious business, however, I work out at the gym and go to dance class," she added. Obiekwe also stressed the importance of medical students lifting each other up and helping each other out. Obiekwe, who is originally from Nigeria, said she liked her field of work as it is very action-based. When asked about challenges as she started her medical career, Obiekwe said that she felt she had to prove herself over and over. "I had to block that out, take charge and realize I am the captain of the ship," said Obiekwe.