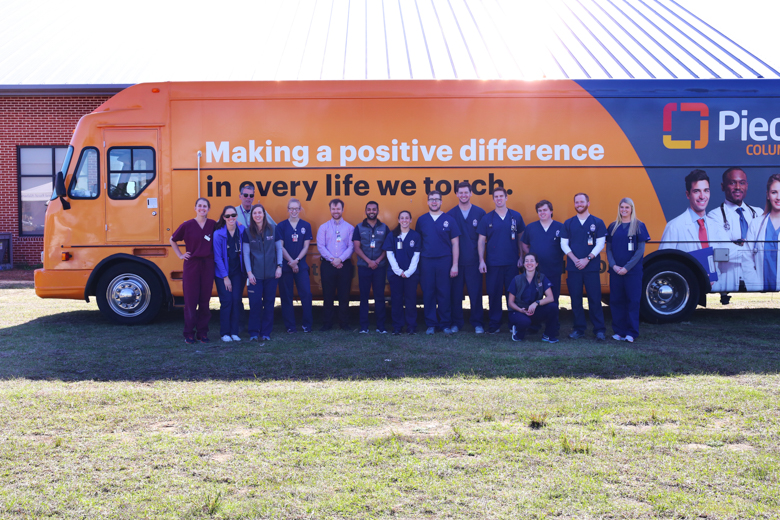 Disaster struck residents of rural Lee County, Alabama on Sunday, March 3, as an EF-4 tornado dropped from the clouds at 2:20 p.m. and swept away vehicles, homes and 23 lives. Just 23 minutes prior to the deadly tornado's arrival, a tornado warning was issued by the National Weather Service to county residents. In a few short minutes, disaster struck, then abated, leaving many survivors with nothing but the clothes on their backs. Within hours, many organizations began furiously working to assist their neighbors by bringing basic necessities to storm victims, including food, water, first-aid, clothing and shelter.  
Faculty, students and staff at the Edward Via College of Osteopathic Medicine Auburn campus have been working to provide free medical care and supplies to neighboring Beauregard, Alabama area tornado victims. Immediately following the devastating tornado outbreak, VCOM-Auburn administrators worked quickly with community partners to devise a plan to try to assist storm victims. A supply drive was held, which saw donations of bottled water, sports drinks, personal care items, baby care supplies, non-perishable food, first-aid supplies and more. 
On Monday morning, a tent was erected at Beauregard Drugs and Dr. Martin Roach's Beauregard Clinic to provide free-of-charge, non-life-threatening medical care to storm victims and rescue and recovery personnel. A pull-type RV trailer was loaned to the effort, which offered welcome shelter from the cold wind and a place to store relief supplies for distribution. Physicians and students from VCOM have staffed the tent from morning until evening each day.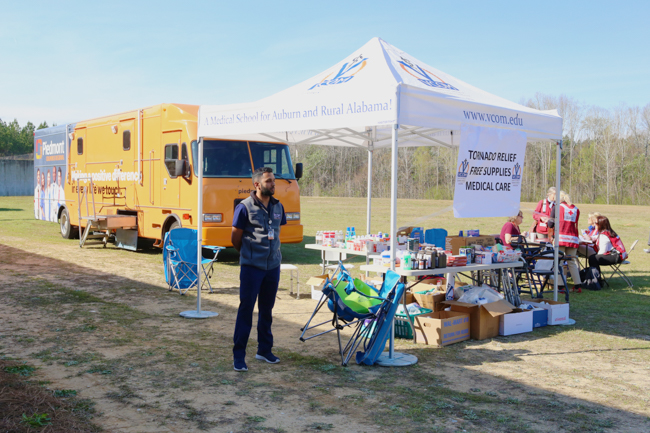 On Wednesday, March 6, Piedmont Columbus Regional Hospital joined the effort by arriving on scene with a mobile triage unit. This unit, essentially an RV-type vehicle, offers two patient care rooms in a spacious, climate-controlled environment. Medical professionals from Piedmont Columbus Regional have committed to be on site at least through the weekend.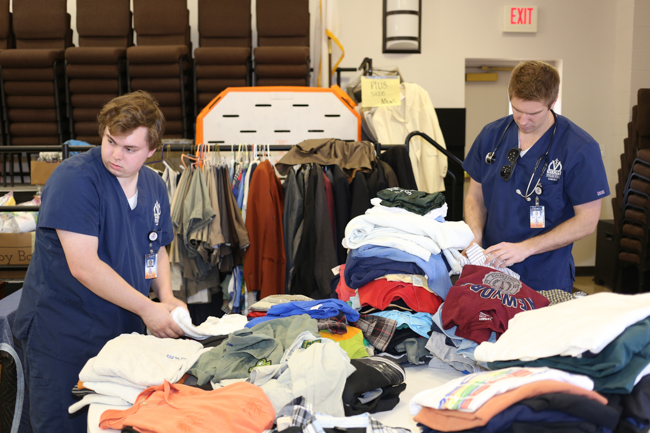 On Thursday, March 7, the Piedmont Columbus Regional mobile unit, along with the VCOM relief tent, moved 1.5 miles to Providence Baptist Church at the request of the incident commander. This new location has become the focus of the volunteer efforts for the community. American Red Cross volunteers and case-workers teamed up with VCOM and Piedmont to provide psychological and spiritual care. Additionally, a Red Cross nurse was on site to assist storm victims with filling prescription medicines lost in the storm – another of the many details of everyday life that people never expect to be lost.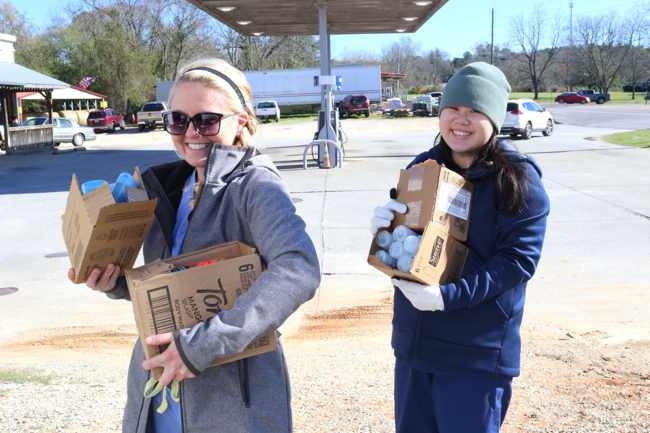 "We are extremely grateful for the cooperation and partnership with Beauregard Drugs, Beauregard Medical Clinic, the Piedmont Columbus Regional mobile unit and Providence Baptist Church," said J.J. White, DO, PhD, VCOM-Auburn's associate dean for simulation and technology, discipline chair for emergency medicine and the College's disaster response leader for this effort. "We are amazed by the outpouring of support by the entire community and hope to be flexible, adaptable and productive with our relief efforts," White added.
"After a horrific natural disaster, it was wonderful to see our students and faculty come together in a time of need," said Jesse Shaw, DO, an assistant professor and sports medicine fellow at VCOM-Auburn. "We have been successful in quickly pulling together resources and helping hands to begin the healing process along with our community," Shaw added.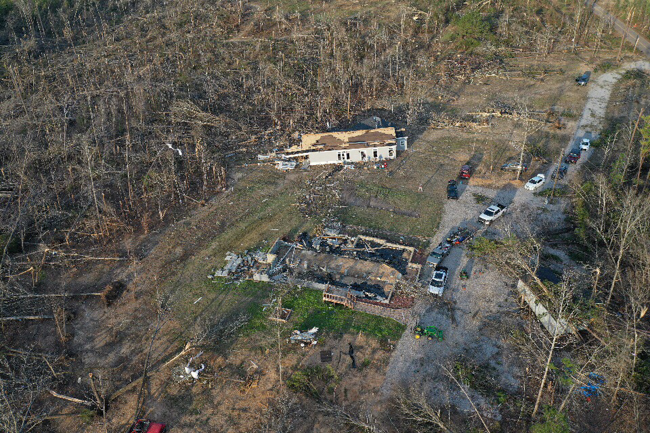 "Our involvement with relief efforts began the night of the storms treating patients in the emergency department at East Alabama Medical Center," said VCOM-Auburn fourth-year student Gunnar Magnuson. "Consistently, we have been very encouraged at the overwhelming number of individuals and local health institutions like VCOM-Auburn and its partners looking to help their neighbors in any way they can," Magnuson added.
"What VCOM is doing for the local community is exactly what we strive to do as future physicians — giving our time and knowledge for those in need," said Tram-Anh Huynh, a second-year student at VCOM-Auburn. "I am really proud to be part of a community that jumped in without hesitation to help the Lee County tornado victims," said Huynh.