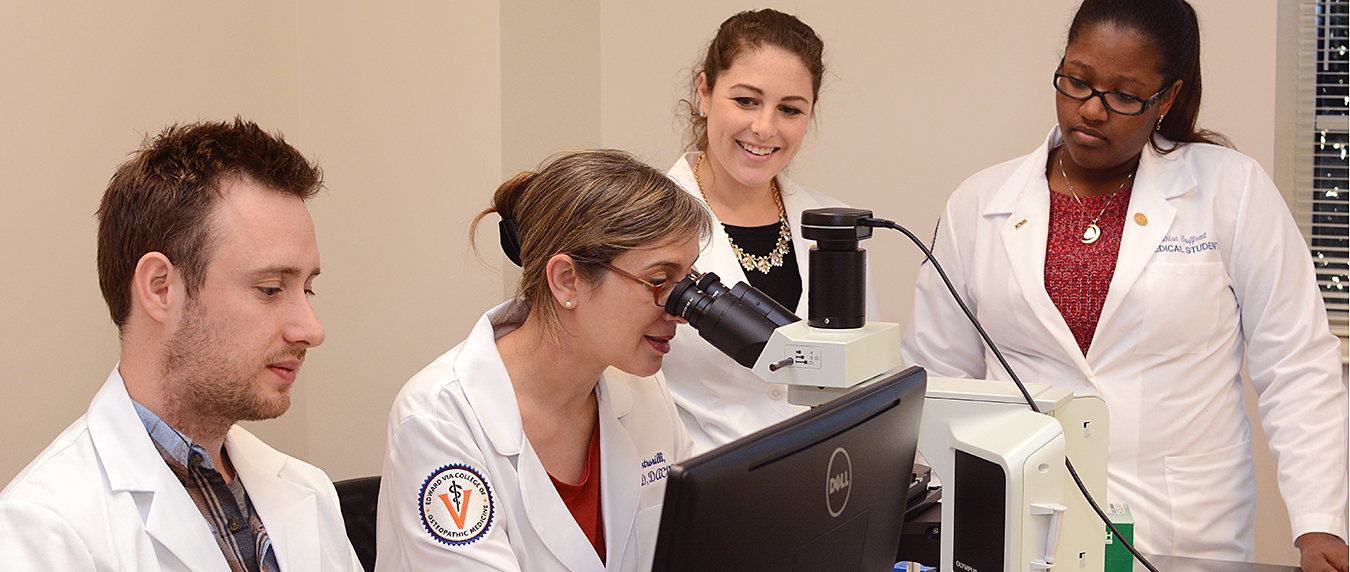 Construction on a new microbiology lab at the VCOM-Auburn building has recently been completed. This lab, located on the first floor, will be a valuable resource for VCOM-Auburn faculty and students. According to Kenny Brock, DVM, PhD, MS, VCOM-Auburn Associate Dean for Biomedical Affairs, this lab has the flexibility to serve multiple roles. It will be utilized as an instructional area for students, as well as a multi-role research area.
An open area in the lab will serve as flex space, and will likely see use in the future as a biomechanics and physiology research lab. The biomechanics and physiology research lab can be modified to meet needs of individual studies including patient sample collections and various performance activities. Brock said that VCOM-Auburn is hoping to facilitate and encourage students to conduct research during their curriculum.
"This lab can serve as a general research lab to support a number of groups," said Brock. "We have a few projects funded, and we're ready to go ahead and start doing research," added Brock. "The new microbiology lab will provide our medical students with a state of the art wet-bench laboratory experience that is both innovative and convenient to their busy study schedules. I believe this lab facility will position VCOM-Auburn as a significant participant in developing research that promotes improvement in human health," said David J. Stephen, DO, VCOM-Auburn Chair of Pathology.
In the lab, microscopy includes an inverted microscope, a fluorescent microscope, and a standard scope with camera system. The teaching microscope will eventually be connected to a flat screen television on the wall. Through a computer program, microscope images can be projected on the screen, and may also be viewed by students on their own computers. There are 10 Olympus microscopes set up for the students to use in the lab during block one instruction.
A separate, defined research space consists of four individual research lab suites. Equipment available in the common research areas includes three biosafety cabinets with three double-stack CO2 incubators, which includes one tri-gas incubator, and a shaker incubator. Areas are designated for the culture of pathogens, clean cell cultures and stem cell isolation and characterization. In addition, an area is designated for nucleic acid extraction.
Core equipment also includes a nano-drop spectrophotometer, Bio-Rad Bio-Plex 3D multiplex immunoassay system, Real-time PCR and Digital PCR machine, Complete nucleic-acid and protein electrophoresis systems including documentation equipment, and a four-channel Flow-cytometer. The lab also features a chromatography refrigerator, a -20 C freezer, a -80 C freezer, a cryo-storage tank,  an autoclave, a refrigerated low speed centrifuge and refrigerated and non-refrigerated micro-centrifuges.
According to Brock, the Bio-Plex 3D multiplex system and the Digital PCR machine are two pieces of equipment that are unique to the Auburn University campus. Brock said that several campus researchers have expressed interest in utilizing these machines. The multiplex machine is capable of analyzing multiple cytokines, while the PCR machine is capable of amplifying DNA.