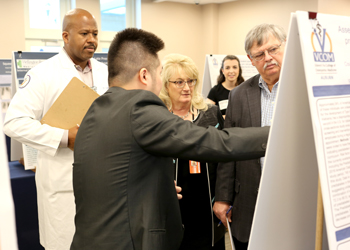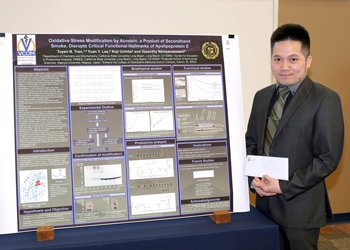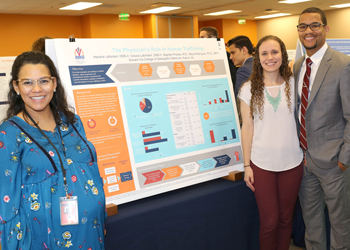 On Wednesday, May 16, VCOM-Auburn held its first Via Research Recognition Day. This event serves as a forum for health professionals and scientists in academic institutions, teaching hospitals and practice sites to present and benefit from new research innovations and programs intended to improve the health of all people.
The event began in the multipurpose room with a poster session where 62 posters were presented and judged on their merits. Light refreshments were served during the poster session, and students were present to answer questions about their research projects. VCOM-Auburn was honored to have special guests from the VCOM-Virginia campus including President and Provost Dixie Tooke-Rawlins, DO, FACOFP, Vice President for Research Gunnar Brolinson, DO and Skip Garner, PhD. Garner serves as a professor of biomedicine as well as the executive director for primary care research network and the center for bioinformatics and genetics.
Overall winners in the poster competition included first place finisher Tuyen Tran for his poster titled "Oxidative Stress Modification by Acrolein, a Product of Secondhand Smoke, Disrupts Critical Functional Hallmarks of Apolipoprotein E." Matthew Pickich finished in second place with his poster titled "Therapeutic Benefit of a Turmeric Extract in a Nutritionally and Oxidatively Induced Rat Model of Non-alcoholic Steatohepatitis." Amber Neal finished in third place with her poster titled "Non-conformity in the Anatomical Description of the Duodenum and the Impact on Clinical Communication."
Category winners were Nicolas Ryan, biomedical; Corey Stone, clinical case report; Evan Thomas, educational research; Kyle Nielsen, simulation; Daniel Krautter, clinical research and Han Fang, interprofessional.
Following the poster session, attendees were given a presentation by keynote speaker Thomas S. Denney Jr., PhD, Professor and MRI Research Center Director at Auburn University. Denney highlighted some of the research being conducted at the MRI Research Center and gave an overview of the Center's capabilities.
Immediately after Denney's presentation, several VCOM-Auburn faculty spoke about their current research projects during a "5-5-5 research presentation." The 5-5-5 presentation is a rapid-fire summary where the speaker presents current research in five minutes with five slides, then takes up to five questions from the audience.
Event leader Kenny Brock, DVM, PhD, VCOM-Auburn's Associate Dean for Biomedical Affairs and Research, said he was pleased with the first Research Recognition Day at VCOM-Auburn. "All the credit for this event's success goes to the students and faculty that conducted the research and put together the posters," said Brock.
"Many of the judges and attendees were surprised by the unique research projects conducted by our busy medical students," said Paul Brisson, MD, VCOM-Auburn Professor and Discipline Chair for Surgery. "There is no question that these projects greatly advance the research skills of the students and the reputation of VCOM, but more importantly contribute to improving the health and safety of patients," Brisson added.
Brisson served as research mentor to overall third-place winner Amber Neal, a member of the class of 2020. Neal said that she and her colleagues had been working diligently over the past two years, exploring the many areas of research in which VCOM is involved. "Research day benefits us all by allowing us to gain experience talking in front of physicians, collaborating with other students in various disciplines and working closely with our research mentors," said Neal. "I am so thankful VCOM put on Research Recognition Day to allow us to showcase our hard work," Neal added.