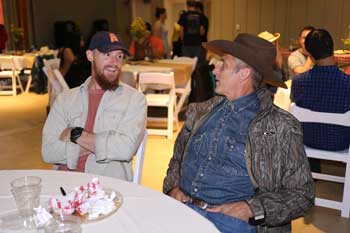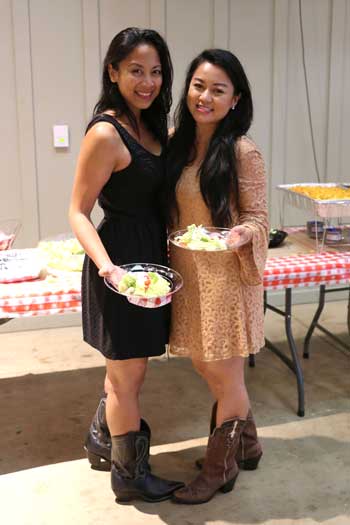 Despite thunderstorms and a steady rain, members of the VCOM-Auburn class of 2019, along with faculty and staff, gathered on Thursday, June 15 for a "Boot the Second Years Celebration" at the Red Barn in Auburn University's Ag Heritage Park.
This celebration was held to recognize VCOM-Auburn's class of 2019 as they finish the year up and move on to their clinical rotations. Attendees were encouraged to wear cowboy boots and western-themed clothing for the event.
Tyler Cardinal, VCOM-Auburn staff accountant, and his fellow band members that make up the group "American Whiskey" provided live entertainment for the event. Students, faculty and staff dined on grilled hotdogs and burgers as they laughed and talked with each other while the raindrops fell outside and the band's music filled the barn's interior. 
 "It is a happy and sad feeling at the same time," said Johnny Stackhouse, DO, VCOM-Auburn Discipline Chair for Family Medicine. "There will always be the memories of those special moments never to be duplicated with anyone else since this was the first class at VCOM-Auburn," Stackhouse added.
"I'm excited to get out there and do what I came to medical school to do," said second-year student Scott Wilder. "I'm super thrilled to get out of the books, see patients and learn on the job," added Wilder, who will be undergoing rotations at East Alabama Medical Center (EAMC) in nearby Opelika, Alabama.
"It is like being halfway through a great book, knowing what you've read is outstanding and looking forward to the second half that will be even better," said second-year student Ezra Adams. Adams will be undertaking his clinical rotations next academic year at Jack Hughston Hospital in Columbus, Georgia. "I am profoundly grateful for having been here with all these wonderful people," Adams added.
Jeff Martin, PhD, VCOM-Auburn Discipline Chair for Cellular Biology and Physiology said that he looked forward to the students visiting campus and hearing about their experiences. "It's not necessarily sad to see the students leave the building, so to speak," Martin said. "Certainly I'll miss the conversation and personal interaction, but I'm excited for them to take the next step -- that's what they came here for," added Martin.
In their third year of study, students begin the first of two years of clinical training and experiences involving direct patient care. According to Terri Plundo, DO, FACOFP, RN, VCOM-Auburn Associate Dean for Clinical Affairs, students must complete 10 rotations per year during their third and fourth years at VCOM. Students have the option of five elective rotations during their fourth year. That way, they are able to explore areas that might interest them or that might be an area that is related to their professional career choice.
Plundo said that third year rotations will consist of topics including pediatrics, internal medicine, surgery, psychology, family medicine, family medicine with Osteopathic manipulative medicine (OMM), obstetrics and gynecology and foundations in diagnostic medicine (FDM).
Plundo said that seeing the students go on to their rotations is much like a parent sending their kids off to college. "You have mixed feelings seeing them go, but you are happy to see them go on to the next phase," Plundo said. Plundo noted that many of the students will be going to new clinical sites, and others will go to sites that have already seen students on rotations from the VCOM-Carolinas and VCOM-Virginia campuses.