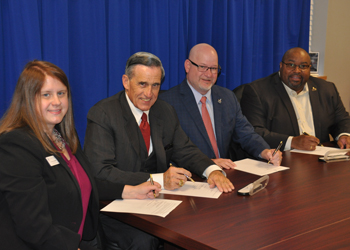 On Tuesday, March 28, 2017, administrators from the Edward Via College of Osteopathic Medicine traveled to Columbus State University (CSU) to formally sign an articulation agreement with CSU administration. Representing VCOM were John G. Rocovich, Jr., JD, LLM, VCOM Chairman, William King, MBA, VCOM Vice President for Student Services and Jake Williamson, PhD, VCOM-Auburn Assistant Vice President for Student Services. Receiving the VCOM delegation and representing CSU was President Chris Markwood, PhD, Dennis Rome, PhD, Dean of the College of Letters and Sciences and Kathleen Hughes, PhD, Professor and Director of CSU's Premedical Studies Program.
The agreement affords CSU students the opportunity to gain early acceptance through the "Rocovich Scholars" program at the end of their sophomore year or be guaranteed an admissions interview at the end of their junior year if they meet certain benchmarks. "Our goal is to provide a conduit to a top-notch educational facility that expands on the foundation laid by CSU's program to produce successful physicians in medical school and beyond," said Rocovich.
Columbus State University, located in Columbus, Georgia, is part of the University System of Georgia. CSU has more than 8,200 enrolled students in 46 undergraduate and 42 graduate degrees. Six CSU students are currently enrolled at VCOM.
"The articulation agreement is great for many reasons, not the least of which is the signing is a demonstration of VCOM and Columbus State's commitment to providing students the necessary resources to one day meet the needs of the region as globally-minded, community focused physicians," said Williamson.
"This agreement begins a new era of opportunities for CSU students on their journey to becoming successful physicians," said Markwood. "The pathways provided by this agreement between CSU and VCOM will likely result in more newly-trained physicians returning to our communities to provide exceptional medical care," Markwood added.
The articulation agreement will guarantee admission to five students annually into the Doctor of Osteopathic Medicine (DO) program at VCOM. Students must have a minimum GPA of 3.4 after completing all required pre-medical coursework, required community service and health care volunteer hours to be eligible for the guaranteed acceptance program. CSU students also will have access to an early acceptance program during their second year. This early acceptance program will allow them to matriculate to VCOM contingent upon meeting standards and completing all coursework toward graduation at Columbus State University.
"CSU's globally-connected campus culture fits exceptionally well with VCOM's global medical mission program. We look forward to having more talented CSU students attend VCOM and reach their goal of becoming qualified, patient-focused physicians," said King. "Our missions align well, and we are excited to have this new partnership with Columbus State University," King added.