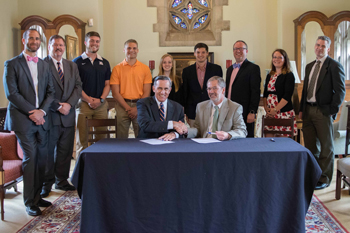 On Tuesday, April 18, 2017, administrators from the Edward Via College of Osteopathic Medicine traveled to Berry College, in Rome, Georgia, to formally sign an articulation agreement with Berry administration. Representing VCOM were John G. Rocovich Jr., JD, LLM, VCOM Chairman and William King, MBA, VCOM Vice President for Student Services. Berry College President Stephen R. Briggs, PhD, signed the articulation agreement with Mr. Rocovich.
The agreement between Berry and VCOM provides for two opportunities to Berry Students. The first is a guaranteed interview, with the second being an early guaranteed acceptance program for high performing Berry students.
Berry students, through this agreement, have the opportunity to gain early guaranteed acceptance through the Rocovich Scholars program at the end of their sophomore year if they meet certain benchmarks. Students who maintain a minimum 3.4 GPA will be guaranteed an admissions interview with VCOM. "Our goal is to provide a conduit to a top-notch educational facility that expands on the foundation laid by Berry's educational program to produce successful physicians in medical school and beyond," said Rocovich.
"There is currently a shortage of doctors, especially in rural areas around the Southeast," said Chris Mingone, PhD, Berry College Clinical Assistant Professor and Pre-Medical Advisor. "This collaboration between our two institutions will promote students from those areas as well as those from low socioeconomic statuses to pursue careers in medicine," said Mingone. "This agreement will also take some of the stressors of the application process away from the student and allow for more opportunities for personal growth and development," Mingone added.
Founded in 1902, Berry College is a private liberal arts college with more than 2,000 enrolled students in 45 undergraduate and 10 graduate degrees. Berry emphasizes an educational program committed to high academic standards, values based on Christian principles, practical work experience and community service in an environment of natural beauty. Berry boasts the world's largest contiguous college campus, covering more than 27,000 acres of woodland, meadows and streams.