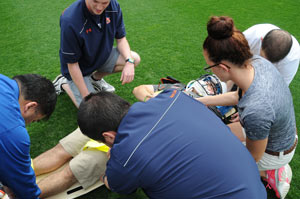 The Edward Via College of Osteopathic Medicine (VCOM) and Auburn University have announced approval to extend a Sports Medicine Fellowship program to the VCOM-Auburn campus.
The VCOM/Auburn University Sports Medicine Fellowship will follow the success of the VCOM/Virginia Tech Sports Medicine Fellowship program, which entered its tenth year in 2015. Expansion of this program will allow VCOM to recruit four additional sports medicine fellows, increasing its total class size for the two campuses to eight in this academic year.
The development of this program will allow VCOM to partner with two elite college athletic programs and will provide opportunities for sports medicine fellows to experience coverage in two of the NCAA's Power Five conferences. Although each site will have a specific training class, fellows from both sites will have the opportunity, through reciprocal rotations and mutual training events, to work at the other site.
"We are really excited to have the program expansion approved and begin work with our new partners at Auburn University Sports Medicine, said P. Gunnar Brolinson, DO, VCOM's Vice Provost for Research and Chair of Sports Medicine. "I believe that with both an ACC and SEC fellowship training program, we will be uniquely positioned to give fellows the best training in the country, while providing the best athletic medical care to our student athletes at each campus."
As with the VCOM/Virginia Tech partnership, VCOM sports medicine fellows will gain unique experience through the program's partnership with Auburn University.
"Fellows in the VCOM/Auburn University program will have the opportunity to gain experience in a comprehensive healthcare system that provides all aspects of primary care and musculoskeletal medicine to the 21 teams which comprise Auburn University athletics," said Mike Goodlett, MD, FAAFP, Team Physician for Auburn University, Special Assistant to the President for Medical Education at Auburn University, and Sports Medicine Chair at VCOM-Auburn. "Fellows in this program will also have the unique opportunity to learn from Dr. James Andrews, who created the Auburn University athlete healthcare system.
For more information, contact Cindy Shepard Rawlins, VCOM Assistant Vice President of Communications, Marketing, Website and Publications, at crawlins [at] vcom.vt.edu or 540-231-5419.