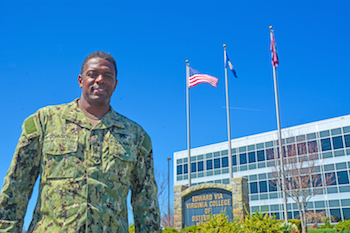 Since age eight, Lt. Shawn Johnson, VCOM-Virginia graduate 2016, knew he wanted to enter the military and help individuals who were in need of care. He did not realize his path would lead him into a profession that would allow him to save lives both abroad and at home through attending Edward Via College of Osteopathic Medicine (VCOM)–Virginia.
As he watched his older brother serve in the US Navy, Johnson felt the calling as well. He served as a Navy SEAL for 22 years before deciding to attend medical school to be a doctor of osteopathic medicine (DO).
While serving alongside doctors in the military, Johnson was continuously encouraged to pursue a career in the medical field. The majority of the time he ignored the idea; however, according to Johnson, one day the idea clicked.
"A doctor said to me 'you don't have to be rocket scientist, you just have to have endurance," recalled Johnson.
The idea of a profession based on endurance attracted the nearly 40-year-old navy seal. He saw it as a different kind of challenge. A challenge that would not only test his physical capabilities, but also his mind.
While deciding which type of physician he hoped to become, Johnson found out the physician who attended to the needs of the President of the United States was a doctor of osteopathic medicine. He saw it as a field that focused on a physician's hands in addition to modern medicine to treat a patient, which was similar to situations he had found himself in while serving as a medic.
"I thought, 'If it's good enough for the President then its good enough for me," said Johnson
When he visited the campus of VCOM—Virginia his decision to enter osteopathic medicine was solidified.
"VCOM seemed like it had good people you can trust," said Johnson.
As he approaches graduation, Johnson looks to his future as a physician. He plans to return to Norfolk, Virginia, to complete his residency in radiology at the Naval Medical Center. He is most looking forward to being closer to his daughter, age 17, who plans to follow in her father's footstep as a member of the medical profession.
On May 7, 2016, a total of 177 VCOM–Virginia students will participate in the graduation ceremony at Burruss Hall on the Virginia Polytechnic and State University campus.
For more information, contact Jenna Nichols. Director of Communications, Marketing, Website and Publications, at 540-231-8363 or via email at jnichols [at] vt.vcom.edu.