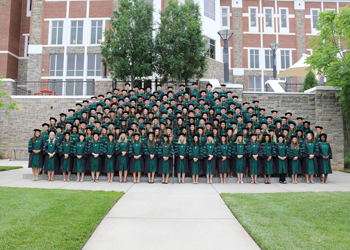 On Saturday, May 20, 2017, Edward Via College of Osteopathic Medicine (VCOM) - Carolinas will hold a Commencement Ceremony for the Class of 2017, the third class to graduate from VCOM since the medical school opened in Spartanburg in 2011.
A total of 158 students will graduate from VCOM with the degree of Doctor of Osteopathic Medicine on Saturday. Over three thousand family members, friends and fellow VCOM faculty, staff and students are expected to be in attendance at the ceremony, to be held at Spartanburg Memorial Auditorium at 10 a.m.
A Military Promotion Ceremony was held on the morning of Friday, May 19, at the Chapman Cultural Center. Nine students from the Class of 2017 were honored in this ceremony as recipients of the Health Professions Scholarship Program, with a commitment to train and serve as physicians in the United States Armed Services. Each received the oath of office during the event.
The VCOM-Carolinas Class of 2017 has a bright future ahead. Graduates will move forward into residency placements throughout the nation, serving as close to home as Spartanburg Regional Health System, and as far away as Madigan Army Medical Center in Tacoma, Washington. Many of the graduates of the Class of 2017 have chosen primary care as their specialty, and will continue to pursue the mission of the College they have attended for the past four years: meeting the needs of rural and medically underserved populations and promoting research to improve human health.