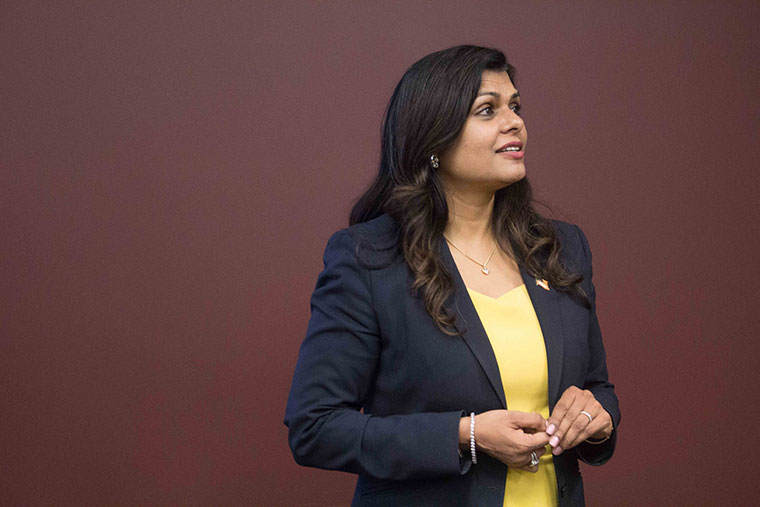 SPARTANBURG, SC (VCOM) - Vanila Singh, MD, MACN, has spent her career managing pain. Now as Chief Medical Officer for the Office of the Assistant Secretary for Health at the U.S. Department of Health and Human Services (HHS), she is poised to take on the nation's opioid epidemic.
"The crisis is not a reflection of our nation's character, but rather an indication of the real difficulties Americans face," Dr. Singh said to a rapt audience of physicians on Tuesday, June 25, at the Edward Via College of Osteopathic Medicine (VCOM)–Carolinas campus in Spartanburg. She was there to present her work on issues related to pain medicine, including opioid use and misuse, medical ethics, and public health.
Dr. Singh spent that morning in Columbia at the request of Governor Henry McMaster. Governor McMaster had called a meeting of the House Opioid Prevention Study Committee and invited Dr. Singh for input on how to address the opioid epidemic in this state.
Overdoses have risen sharply in South Carolina in recent years. There were 508 victims in 2014 compared to 748 in 2017, an increase of nearly 50%. Dr. Singh recapped the early rise of opioids and the realities of drug addiction for the governor and lawmakers.
For the past 13 years Dr. Singh has specialized in treating patients with complex chronic pain issues. As a clinical associate professor of anesthesiology, perioperative and pain medicine at Stanford University School of Medicine, her practice focuses on regional anesthesia with a specialty in advanced ultrasound- guided procedures for pain management and anesthesia medicine. As Chief Medical Officer for HHS, she serves as the primary medical advisor to the Assistant Secretary for Health on the development and implementation of HHS-wide public health policy recommendations. 
As part of the Pain Management Best Practices Inter-Agency Task Force — an entity within HHS — Dr. Singh was invited to VCOM to share the progress of her work, and to discuss ideas for how doctors training future doctors can make a difference.
Timothy J. Kowalski, DO, FACN, Dean of VCOM-Carolinas, opened the discussion by sharing the history of the College, emphasizing the mission of serving rural, underserved communities. The College, which also has campuses in Blacksburg, Virginia and Auburn, Alabama and Monroe, Louisiana, was founded with the purpose of providing physicians to areas where access to care is limited and doctors are few.
Considering that many of VCOM's students come from rural Appalachia and return there as practicing physicians, Dr. Singh sees VCOM as "part of the solution that is much needed." She explained that the top priority in HHS's response to the opioid crisis is to improve access to treatment and recovery services, which begins with increasing the number of doctors. There is a critical shortage of physicians nationwide, but especially in rural and economically challenged regions that have been hardest hit by the opioid epidemic.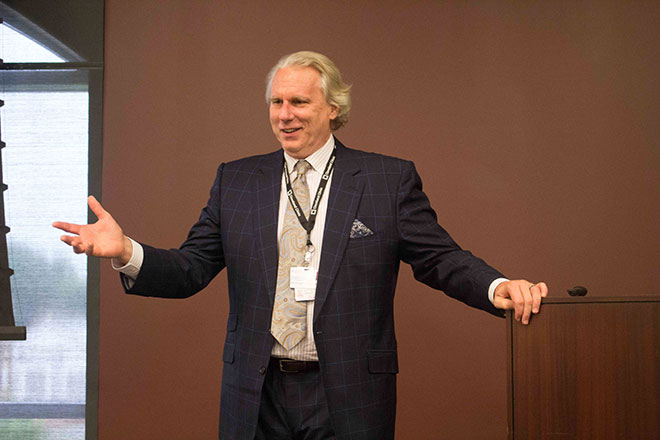 Another priority in HHS's plan is to strengthen understanding of the epidemic through better public health surveillance. Harold "Skip" Garner, PhD, VCOM Associate Vice Provost for Research Development, presented his work developing the Clinical Rotation Evaluation and Documentation Organizer (CREDO), an app that allows medical personnel to log and share fully searchable, mapped case information in real time. This innovative technology, developed to meet HIPPA guidelines and originally intended to track site rotations, could prove to be a vital way to track the pulse of public health.
In the area of public health, there is growing concern about the over-prescription of opioids for pain management and the shortage of other treatments as standard practice. A recently issued report by the Task Force details numerous alternatives to medication for appropriate cases. The osteopathic approach to chronic pain is often able to provide safe and effective treatment without medication for a wide variety of ailments.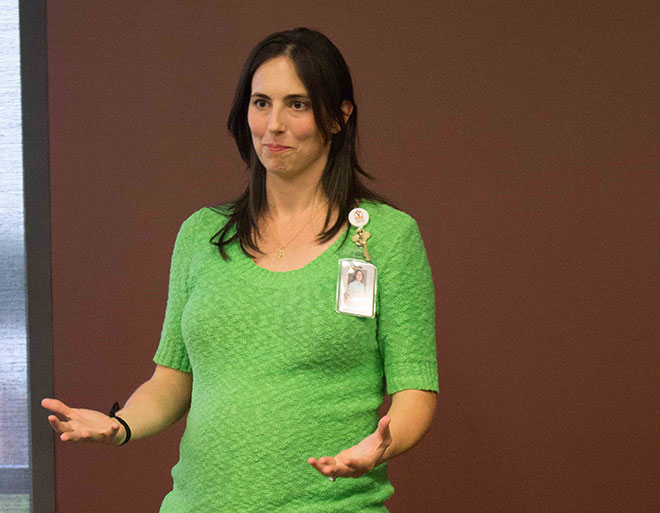 Bethany Powers, DO, VCOM-Carolinas Chair for Osteopathic Manipulative Medicine (OMM) and a practicing physician, discussed studies showing benefits from OMM treatment ranging from shorter hospitals stays to less use of prescription medication. In her teaching she emphasizes how to determine appropriate treatment, viewing medication as just one of many approaches to pain management.
"As doctors, we can give patients options that relieve their pain and increase their functionality without medication," Dr. Powers said, "so they never go down the path of narcotics in the first place."