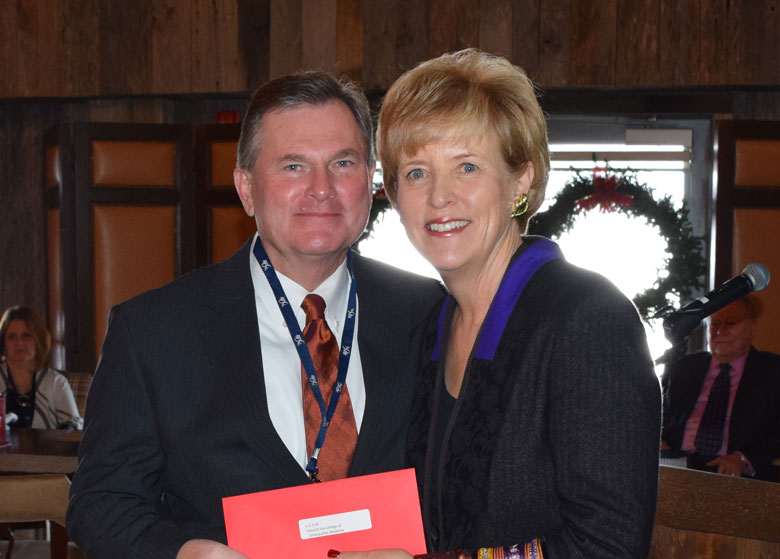 April 23, 2019 – Blacksburg, VA. The Edward Via College of Osteopathic Medicine (VCOM) in Blacksburg, Virginia announced today a $1,000,000 challenge grant from The United Company Foundation to create a permanent and endowed scholarship that will provide financial assistance to medical students recruited from, or who have an interest in serving in identified medically underserved communities in Southwest Virginia.  The donation, which will be given over the next ten years, will create a dollar-for-dollar matching challenge of up to $1,000,000 in gifts and pledges from additional donors to the medical school.
Recipients of The United Company Foundation scholarship will be required to practice in specific counties or cities for at least three years after their residency, with the hope they will remain after their service obligation.  
In making the challenge grant to VCOM, Lois Clarke, President of The United Company Foundation, said, "The foundation was motivated by what we saw as an enormous need for primary care physicians practicing in the region and inspired by VCOM's mission to, and success in, solving the physician shortage in the Appalachian region, especially in rural and medically underserved communities." The United Company Foundation Matching Gift Challenge will help to address what the foundation has identified as two enormous problems: a lack of access to health care in medically-underserved counties in Southwest Virginia and the tremendous debt most medical students incur in their journey to become doctors.
"As someone who grew up in Buchanan County, I'm especially excited that VCOM's well-trained physicians will soon be practicing in communities in Southwest Virginia that need them so desperately," said James W. McGlothlin, Chairman of the Board for The United Company Foundation. "The foundation was especially concerned that in many rural areas of Southwest Virginia, access to health care is very bad and in some cases, it is getting worse. Unemployment is high and the income is low for many of the families in need of health care. The lack of access to health care not only impacts families, but it also hurts the region's workforce and limits the area's ability to attract new businesses and industries." 
Both McGlothlin and Clarke believe other community and corporate leaders will come together and step up to the challenge to help provide debt relief to students who want to become primary care physicians and return to practice in Southwest Virginia. They commented that while a new primary care physician may do well financially practicing in many metropolitan areas of the country because of insurance reimbursement, it is very different in rural and underserved areas where families have no insurance or only have Medicaid. It simply makes it very difficult for recent medical school graduates to return to the  area to practice because of their high student debt repayment obligation.
"Access to high-quality health care is very important," said Dixie Tooke-Rawlins, President and Provost, VCOM.   "Partnering with The United Company Foundation will help to provide primary care services to more Virginians living in rural areas in Southwest Virginia. I am most grateful to the trustees of The United Company Foundation for their foresight of and understanding about the importance of encouraging students to return to practice medicine in medically and underserved areas of Appalachia. As a college, we purposely recruit students from, and train them in, rural areas with the intent that once they complete their residencies, they will return to practice in the region. This challenge grant will greatly enrich VCOM's scholarship program and enable many of our students to fulfill the college's mission of improving the delivery of health care in medically underserved areas throughout Southwest Virginia." 
The first recipients of The United Company Foundation Scholarship will be selected this spring.
For more information:
The United Company
Lois Clarke, President for the United Company Foundation
(276) 645-1454
clarke [at] unitedco.net
Edward Via College of Osteopathic Medicine (VCOM)
Thimothy Corvin, Vice President for Development and Alumni Relations
540-231-7189
tcorvin [at] vcom.edu.
***********************************************************************************
The United Company Foundation was created in 1986 to provide assistance to those in need of help by providing assistance with food, shelter, clothing, education, youth programs, the Arts, health, wellness, and improve the quality of life in our community through financial grants to 501(c)(3) charitable organizations and philanthropic ministries within The United Company Foundation.
The Edward Via College of Osteopathic Medicine (VCOM) is a private, 501(c)(3) non-profit osteopathic medical school in Blacksburg, Virginia (VCOM-Virginia), with two branch campuses located in Spartanburg, South Carolina (VCOM-Carolinas) and Auburn, Alabama (VCOM-Auburn). Founded in 2001, the mission of the school is to alleviate the critical shortage of physicians in Appalachia by training medical students to become patient-centered physicians who focus on evidence based medicine. The school places emphasis on recruiting on students from a rural Appalachian background, particularly the rural sections of central and southwestern Virginia, Piedmont North Carolina, upstate South Carolina, and Alabama.