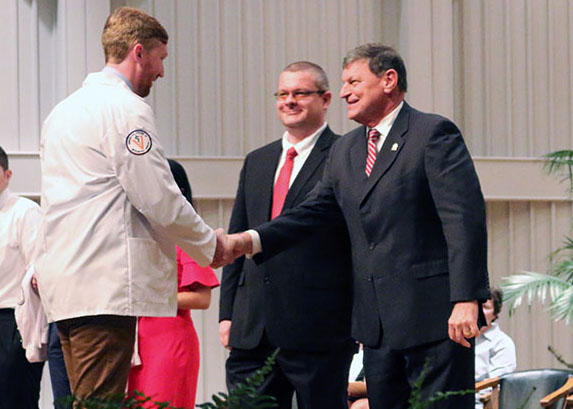 Tim Kowalski decided in tenth grade he wanted to become a physician because he believed it was the best way for him to help people in need; and Michigan State University's College of Osteopathic Medicine helped him fulfill this altruistic goal.
Kowalski, who grew up in Wyandotte, Michigan, a downriver Detroit suburb, is currently dean of the Edward Via College of Osteopathic Medicine (VCOM)–Carolinas Campus, in Spartanburg, South Carolina. He tells the story of how his career in medicine began.
"I was influenced to choose medicine as a career while serving throughout high school as a youth volunteer at Wyandotte General Hospital (now Henry Ford Wyandotte Hospital). I had hoped to attend Michigan State for medical school because so many of my family members were MSU grads; it's a big part of our family," Kowalski says. "So when I was offered a seat, I was elated."
He was also one of two members in his MSUCOM class to receive a scholarship through the U.S. Army Health Professions Scholarship Program.
His "first career," in the U.S. Army, included a transitional rotating internship at Tripler Army Medical Center in Honolulu, followed by deployment to West Germany as a general medical officer. After a year, he was given command of a medical detachment in a small, rural community. 
"I was the only physician caring for American soldiers and their families, ranging from babies through retirees," Kowalski says.
"However, I fondly recalled our psychiatry course at MSUCOM taught by Gerry Osborn, DO, as well as an excellent clinical rotation in Toronto that led me to choose psychiatry as a career," Kowalski says. 
He returned to Tripler for residency and child psychiatric fellowship training, remaining in Hawaii, where he completed his army career as the division psychiatrist of the 25th Infantry Division (Light) in 1993. 
He began his "second career," as a civilian, with the South Carolina Department of Mental Health, rising to the position of chief medical officer of a psychiatric institute in Columbia. 
"There, I was able to fulfill my personal goal of meeting the needs of the underserved by caring for youth in juvenile justice, rural mental health centers and the state hospital." He notes.
During those 17 years, he was appointed to the South Carolina Board of Medical Examiners, serving as the only osteopathic physician elected as its president, as well as participating in other professional activities at the state and national levels.
Retiring from the state in 2010, Dr. Kowalski began his "third career"—in osteopathic medical education. 
"As dean of the VCOM–Carolinas Campus, I am proud to have been entrusted with the responsibility of a new osteopathic medical school whose mission is to produce DOs to serve in rural and underserved areas. I am especially pleased that this year, VCOM ranks just behind MSUCOM within the U.S. News & World Report ranking of the top six medical schools in the country whose graduates enter primary care." 
Kowalski says of his time at MSUCOM, "Our class experienced a great deal of camaraderie and enjoyed a culture of sharing and collegiality that I cherish to this day. At VCOM we have a similar culture. And I am proud to note, that with the acceptance of one of my graduates to an osteopathic residency at Henry Ford Wyandotte Hospital, my career has come full circle from where it all began."
Originally posted on the Michigan State University College of Osteopathic Medicine website.