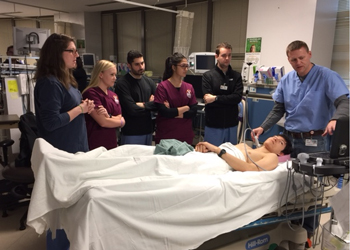 On Saturday March 11, students from the Edward Via College of Osteopathic Medicine (VCOM) – Virginia participated in the thirteenth annual Anesthesiology Skills Workshop at Carilion Roanoke Memorial Hospital.
Originally a program developed by Anesthesiology Consultants of Virginia and the Anesthesiology Student Interest Group at VCOM, this popular, hands-on workshop now welcomes attending anesthesiologists from Valley Anesthesia and ACV, Inc. Approximately 80 medical students attended the workshop this year, coming from VCOM, Liberty University College of Osteopathic Medicine, and the Virginia Tech Carilion School of Medicine.
The workshop began with presentations from John Butterworth, MD, chair of anesthesiology at Virginia Commonwealth University (VCU), and Michael Fowler, MD, VCU anesthesiology residency program director. Both speakers talked about the characteristics anesthesiology program directors look for in clinical residents, and followed with a panel Q&A session.
After the presentation and discussion, students moved to a post-surgical care unit where students practiced antegrade and fiber-optic guide retrograde intubation skills with simulation models. Students also gained hands-on experience with volatile anesthetics, ultrasound-guided regional anesthesia, cardiopulmonary resuscitation, lumbar puncture, epidural approaches, and central and peripheral line placement. Finally, a demonstration and discussion of the anatomy of the airway was provided using video presentation and plastinated specimens.
VCOM faculty and alumni Ashleigh Dunn, DO; Brent Carter, DO; and Richard Wyeth, PhD, also participated in the workshop. The success of this event relies on the anesthesiologists who give their time, particularly event organizer Christy Sherman, MD, and Carilion Hospital and Clinic.