Thursday, September 1, 2016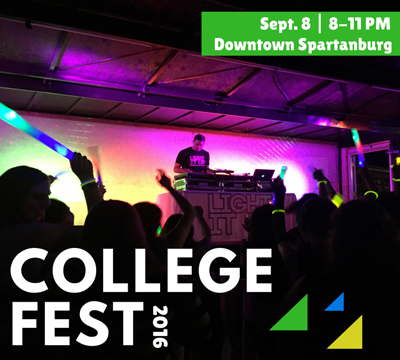 VCOM-Carolinas students are invited to kick off the fall semester at Spartanburg's annual College Fest, a free event hosted by the College Town Consortium that welcomes college students into downtown Spartanburg. The event will take place in Morgan Square on Thursday, September 8, from 8 until 11pm. Whether you're returning for another year, or just getting to know the city, this is a great opportunity to unwind and have some fun with classmates and students from the other six colleges in the city.
College Fest 2016 will feature The Throwback Time Machine, a live DJ and dance party. A limited number of free food tickets will be available on a first-come, first-serve basis with a valid college student ID. Dining options include Nacho Taco, Dottie's Toffee, Papa John's and the Totally Twisted Food Truck. Free beverages will be provided by Coca Cola and Monster.
The College Town Consortium was founded in 2003 as a not-for-profit consortium of Spartanburg's seven public and private accredited colleges and universities. Its mission is to capitalize on the advantages offered by the large number of diverse colleges in order to create educational, social and service opportunities for students; to create economic and brand development opportunities for the City; and to create and sustain partnership advantages among the colleges themselves.
For more event information, visit the College Town Facebook page at www.facebook.com/collegetownspartanburg