Wednesday, December 21, 2016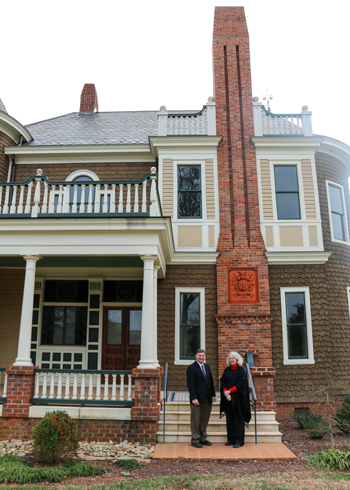 The Edward Via College of Osteopathic Medicine (VCOM)–Carolinas recently received a gift of $200,000 from the Balmer Foundation to begin interior renovations for the historic Duncan DuPre House. This 130-year-old landmark stands at the entrance to the Northside Community, just past the corner of Howard and Magnolia Streets, with the campus of VCOM-Carolinas as its backdrop.
So far, VCOM has funded $550,000 toward restoration and weatherization of the DuPre House, and will require an additional $500,000 in funds to complete the project.
"We are thankful for the support of community partners like the Balmer Foundation and others who may be interested in assisting with this project," said Timothy J. Kowalski, DO, FACN, Dean of VCOM-Carolinas. "We look forward to giving new life to the historic DuPre House as part of VCOM and a continued piece of our community's history."
"The DuPre House really is the gateway to the Northside, and there are so many exciting things happening in this area in terms of revitalization," said Monty Mullen of the Balmer Foundation. "As good community partners, I believe the renovation of this beautiful, historic building on the VCOM campus shows how much we care about our history in Spartanburg County."
The 5,500 square foot DuPre House was built in the Queen Anne style by Bishop William Wallace Duncan when he assumed leadership of the Methodist Episcopal Church. It is credited with being Spartanburg's first home with indoor plumbing, and was first recognized by the National Register of Historic Places in 1976. When VCOM broke ground for its Carolinas campus at the former Spartan Mills site in 2010, an agreement was made with the City of Spartanburg to provide infrastructure improvements for the College. In return, VCOM assumed ownership of the DuPre House at a cost of $1 and agreed to complete the exterior restoration.
"When VCOM started work on the DuPre House, we were initially fulfilling our agreement with the City of Spartanburg," said Kowalski. "Over time, though, this restoration project grew into a greater mission and we saw the opportunity to bring the house back to life."
The Balmer Foundation was established by Mullen's late sister, Lucia Mullen Balmer, and Lucia's late husband Hans-Juerg Balmer, who were interested in the beautification of public spaces. Hans was the volunteer coordinator for Spartanburg's Spot of Pride beautification program.
Mullen took on the role of Chair of the Balmer Foundation after her sister passed in 2015, and is working to continue her sister and brother-in-law's vision by focusing on several critical areas of preservation: beautification, historic restoration, open space, green space, and animal welfare. Mullen looks forward to the renovation of the DuPre House interior, as this will be the Balmer Foundation's first Victorian-era building project in Spartanburg.
"I grew up here, and I love the history of Spartanburg," Mullen said. "I just think this project is so valuable, and I hope others will step forward and recognize the importance of supporting this initiative to save the DuPre House. It doesn't matter what you're capable of giving. What matters is making a commitment to restoring a valuable piece of our history in Spartanburg."
For more information or to learn more about giving to the DuPre House renovation fund, contact Thim Corvin, VCOM Vice President for College Development and Alumni Relations, at tcorvin [at] vcom.edu, or at 540-231-7189.