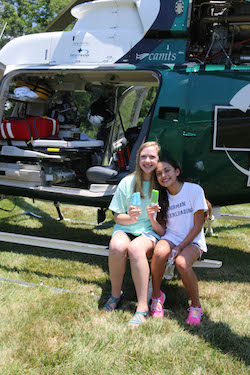 In mid-July, approximately 50 high school students attended the Summer Enrichment Experience (SEE) Program at VCOM-Carolinas in Spartanburg. This five-day camp hosts high school boys in week one and girls in week two, with a purpose of informing and encouraging students who are interested in pursuing careers in science and medicine. During each week, students develop an appreciation for behaviors that are fundamental to healthy lifestyles, learn about life as medical students, have the opportunity to ask hundreds of questions and, most importantly, have a bit of fun!
This year, participants gained firsthand insight into medical topics and careers as they explored the anatomy lab, practiced a variety of clinical skills, researched and presented their own research into a variety of health topics, toured emergency response vehicles, engaged in interactive lectures and enjoyed activities around campus.
"There was never a dull moment," said rising tenth grader Kesha Patel. "I loved the people in the camp. The med students and professors were always laughing and making learning fun!"
Many of the students were unfamiliar with Osteopathic Manipulative Medicine (OMM) prior to attending the SEE Program, so VCOM student leaders demonstrated how to relieve pain and tension through OMM treatments. One participant shared, "I had no idea what OMM was. Now I don't see how you can be a doctor without knowing OMM!" Her classmate joined in, "I learned a lot about the body, and to be in this field, you not only have to be intellectual but compassionate."
VCOM faculty and medical students who facilitated the SEE Program brought their enthusiasm and passion each week, inspiring students to pursue their goals in future medical careers and offering advice on how to get started now. "I learned a lot more about what I can do during high school and college to prepare myself for medical school," said participant Jaylin Dillard.
For more information about the SEE Program at VCOM-Carolinas, visit the program website.