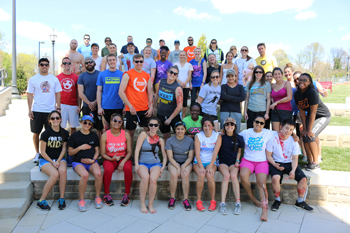 On Wednesday, March 29, Edward Via College of Osteopathic Medicine (VCOM) – Carolinas hosted 40 healthcare professionals from throughout the state of South Carolina for emergency response training and a mock disaster simulation. The simulated bomb explosion was treated as a genuine mass casualty situation on the campus grounds, and required participants to triage victims who were distressed and wounded in a variety of ways by the explosion.
Funding for this educational simulation was provided by a Health Care Coalition grant awarded by the Department of Health and Human Services through the Upstate Healthcare Coalition. Participants were health professionals from a range of specialties, including physicians, nurses, EMTs, social services, firefighters and mental health professionals. The College also welcomed participants from South Carolina Emergency Management, the Red Cross, and Medical Reserve Corps. All South Carolina health professionals who completed the simulation received continuing medical education credit.
Forty-two VCOM-Carolinas students from the Class of 2019 volunteered to portray victims, both survivors and casualties, of the mock disaster. College staff also helped out in the portrayal of victims, with VCOM faculty members and local emergency healthcare professionals coordinating the simulation.