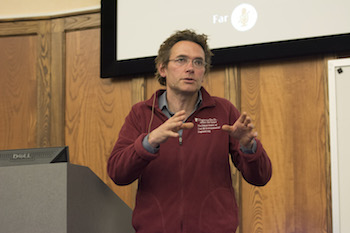 The Flint, Michigan Water Crisis gained national attention for its immediate effects on the nearly 100,000 residents exposed to lead tainted water due to the lack of corrosive water filters on the city's water lines. On April 28, 2016, Marc Edwards, PhD, professor of Environmental and Water Resources Engineering at Virginia Tech, and lead researcher of the Flint, Michigan Water Crisis, spoke to nearly 80 Edward Via College of Osteopathic Medicine (VCOM)–Virginia faculty, staff and students. Attendees from VCOM's other two campuses in Spartanburg, South Carolina and Auburn, Alabama viewed the event through video streaming from the main campus.
In 2015, Edwards was on a mission to inspire other researchers to invest time and effort into not only research, but humanitarian causes that effect communities across the country. Three days after giving a speech in this regard to a group of researchers, he received a call from a mother in Flint who was worried not only for her community, but her ill child. It was a call Edwards always expected, yet hoped would never come.
"It was a matter of when, not if, I got that call," said Edwards while speaking to his VCOM audience.
It was this one phone call that changed the course of Edwards' life. The life of a researcher soon became fighting bureaucratic processes, educating the public and working to save a community.
After reading an interview with Edwards regarding regaining the trust of the public through being advocates for public health, Stefani Mead, VCOM first-year student, knew she wanted to bring him to the campus. She and Greg Rodden, also a first-year student, used their roles as chairs of the college's Student Osteopathic Medical Association (SOMA)'s Bioethics and Humanities Medicine Organization to make the idea happen.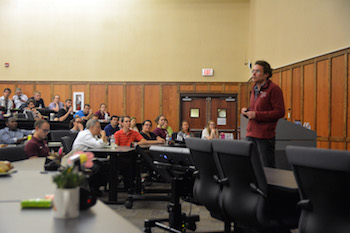 "By bringing Dr. Edwards to VCOM, I hope that we can learn that as our careers progress how we can insure that these kinds of things either are stopped immediately or that we can help prevent these things from happening in the future," said Mead. 'I feel that as physicians our role is not only to take care of our patients but to act as an advocate for the public. "
"We'd like people to not just focus on the science or the economics of medicine but also focus on the humanitarian acts of medicine," added Rodden.
The classroom at VCOM–Virginia was filled with individuals eager to hear from Edwards about his journey, research and future impacts of the tragic events that took place in Flint. The questions largely focused on what should have been done, what is left to do and what the future holds.
"I look here at you guys and I have hope," said Edwards regarding the involvement of future physicians in humanitarian advocacy.
He added that he believes the mindset of the medical community is evolving and the interest VCOM has shown in hearing about his journeys has solidified his observation. Edwards said the dedication of VCOM to providing healthcare to underserved communities allows students to view patient care beyond medicine and extend it to the overall wellbeing.
For more information, contact Jenna Nichols. Director of Communications, Marketing, Website and Publications, at 540-231-8363 or via email at jnichols [at] vt.vcom.edu.