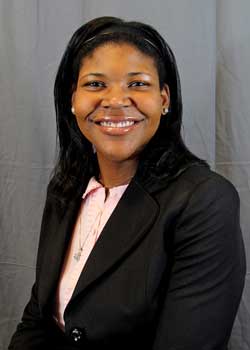 The 2016 Student National Medical Association (SNMA) Annual Medical Education Conference (AMEC) was held in Austin, Texas on March 23-27. During this convention, fourth year VCOM-Carolinas student Chandra M. Jennings, MPH, was appointed to the position of National Community Service Co-Chair.
Jennings came to VCOM-Carolinas in Spartanburg from Miami, Florida. She was born and raised in Coconut Grove, and grew up learning the value of service and the importance of health and education as a means of promoting community development, strengthened by her family's membership at the Greater St. Paul AME Church in Coconut Grove and her attendance at MAST Academy on Key Biscayne. "I hope that my community service and leadership gained as the SNMA Community Service Co-Chair will prepare me to practice medicine in South Florida after graduation from medical school in 2017," Jennings said, of what she hopes to take away from this national position.
The theme of the 2016 AMEC was Mental Health: Facing the Challenges of the 21st Century.  The SNMA follows its mission by creating programming initiatives to support current and future underrepresented minority medical students. Members simultaneously address the needs of underserved communities. The SNMA also works to increase the number of clinically excellent, culturally competent, and socially conscious physicians.
More than 2,000 medical and pre-medical students, physicians, exhibitors, administrators, government officials, and observers attended the 2016 AMEC. During the conference, medical students and professionals gathered to attend a wide range of educational and networking events. AMEC is consistently the largest gathering of underrepresented minority medical students at any time of the year in any place in the nation.
It is truly a distinct honor for Chandra Jennings to be appointed to this influential leadership position as National Community Service Co-Chair of the SNMA, and VCOM-Carolinas is proud to share the accomplishments of students like Chandra who continue to further the College mission and serve those most in need.