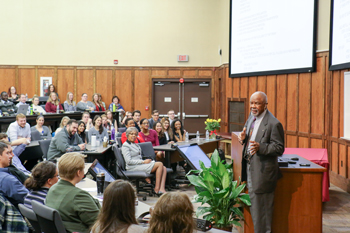 The Student National Medical Association (SNMA) of Edward Via College of Osteopathic Medicine (VCOM) Virginia has been hosting a series of events during the month of February in honor of Black History Month. The month's culminating event, themed "Overcoming Adversity," featured two phenomenal keynote speakers, Ms. Andrea Mickle of Minority Access, Inc., and William G. Anderson, DO, who shared their experiences and inspired students in their professional pursuits. VCOM-Virginia Dean Jan Willcox, DO, made a surprise announcement that this was the inaugural William G. Anderson DO Black History Month Series, which will take place each year going forward. The event took place on Tuesday, February 28, 2017.
Andrea D. Mickle, a former university administrator and education association administrator, is President and CEO of Minority Access, Inc. Ms. Mickle talked about how she overcame many adversities while growing up, such as being the first black student in an all-white high school, as well as health issues and other societal barriers. Minority Access, Inc. is a nonprofit organization committed to increasing diversity, decreasing disparities and reducing incidences of environmental injustices. Their mission is to assist colleges and universities, the Federal Government and other agencies in implementing programs and providing services to recruit, enhance and retain underserved and underrepresented populations. For the past five years, VCOM has received the Institutional Role Model Award from Minority Access in recruiting and supporting diverse student enrollment.
William G. Anderson, DO, was once a close friend of Dr. Martin Luther King Jr. After completing his medical degree in 1956, Anderson interned at the prestigious Flint Osteopathic Hospital in Michigan, and eventually established a practice in Albany, Georgia, where he felt there was a greater need for medical care. He is known for his role in the Coalition of Desegregation, a civil rights movement called the Albany Movement, which Anderson led in Georgia in 1961. Dr. Anderson told students about how he was inspired by student protesters seeking to end racial segregation and obtain voting rights for black citizens. He invited his friends, Dr. Martin Luther King Jr. and Ralph Abernathy, to lead demonstrations. Anderson also emphasized how education is the key to overcoming many of the adversities that minorities face in today's world, and encouraged students to advocate for education and lead by example since their patients have a great respect for them as physicians.
Dr. Anderson also practiced as an osteopathic surgeon at Michigan State University. He was the first African-American member of the Board of Trustees of the American Osteopathic Association (AOA), which he represented for twenty years and also served as president. Anderson was a founding member of the Board of Directors at VCOM-Virginia, and is now serving on the VCOM-Auburn Advisory Board.
VCOM-Virginia SNMA president Eboni Pullen said, "It was truly an honor to listen to Ms. Mickle and Dr. Anderson and I can truly say I was able to grow from their talks. Their speeches inspired me to persevere in the face of adversity, and more than anything to sow into the lives of those to come after me because greatness lies in everyone. Truthfully speaking, the entire month and series of events were extraordinary, more than I could have ever hoped for. I laughed, cried, and everything in between, but most importantly I learned a great deal from each individual that I had the pleasure of hearing from during these events."
"That day still gives me chills!" said Eden Haile, Class of 2019. "Dr. Anderson and Ms. Mickle both blew me away! They shared the same message but each spoke with a touch of their own style and charm that lightened up the room. Ms. Mickle was full of elegance and her sweet words kept you calm and engaged. Dr. Anderson, on the other hand, knew how to get the room roaring with laughter and kept the audience yearning for more. They spoke about everyday challenges they faced and how they overcame adversity. They taught me the importance of having a strong belief in myself and never giving up. They not only changed my outlook on medicine but they also changed my perspective on life. I learned that a person is not defined by challenges they face but by how they overcome those challenges. I am truly honored and humbled to have been in their presence and to have been a part of this special day!"
Other events held by SNMA for Black History Month Celebration were a football-themed Dress Down Day fundraiser; a pizza and movie night watching the PBS special, "Unnatural Causes… is inequality making us sick?"; a mini-med school for Virginia Tech Minority Association of Pre-Medical Students, providing them with a classroom lecture, anatomy labs and OMM lessons; and a lunch session with IAT Implicit Bias Questionnaire and Open Circle Discussion, where students took the Harvard questionnaire and discussed the results and overcoming bias. A Diversity Discussion Dinner was held with a VCOM faculty, staff and alumni panel discussing diversity in the medical field, difficulties they faced and how they overcame them. Special thanks to Chevon Thorpe, PhD; Sofia Abraham-Hardee, DO; Abraham (Billy) Hardee, DO; Blaise Costa, MPharm, PhD; Brian Dickens, DO; Hing-Har Lo, MD; and Arben Santo, MD, who all served as panelists for this discussion.