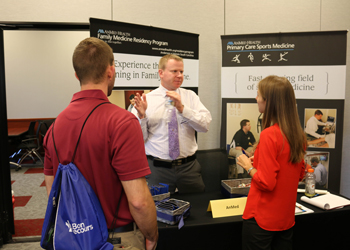 VCOM-Carolinas hosted Hospital Day for current students on Wednesday, October 26, 2016, inviting representatives from partnering core clinical sites for this important networking opportunity. A total of 13 hospital sites were represented, providing information, answering questions, and getting to know the current second year VCOM students in person.
"The Clinical Rotation Fair provides students with an opportunity to learn more about the training experiences and opportunities offered at VCOM core sites," said Matthew D. Cannon, DO, Associate Dean of Clinical Affairs. "Students get the chance to meet our current Site Coordinators and the Directors of Student Medical Education from each site, and get more information about living in that specific region. This information will be an invaluable resource when determining which regional sites students may be most interested in for their third and fourth years of training."
Upon completion of their second year in medical school, students move on to complete two years of clinical training in the hospital setting before residency, and Hospital Day provides a decisive look into specialty training at each of VCOM's core sites.
In March 2017, VCOM-Carolinas will host a residency fair for third and fourth year students to meet and network with representatives from hospital residency programs as they prepare to begin the process of matching with a residency program and continue their education upon graduation from medical school.