Thursday, January 28, 2016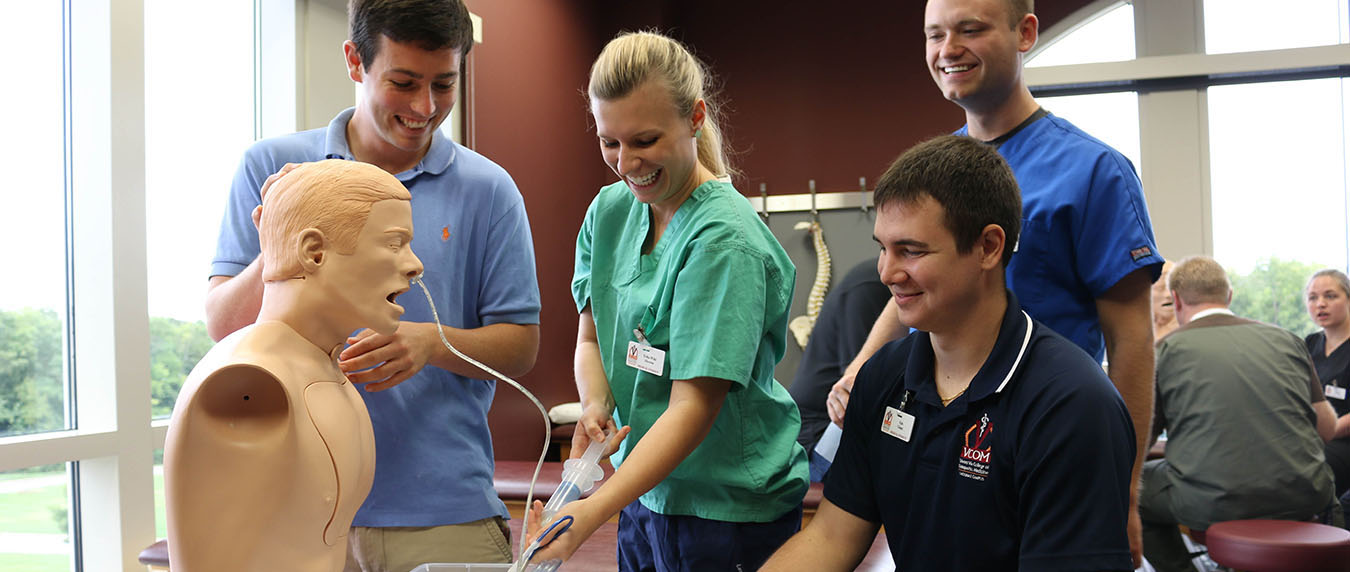 VCOM students spend a great deal of time practicing the skills they will use in their careers as physicians. During the first two years of medical school, they learn from working with lifelike manikins in the Simulation and Educational Technology Center, role playing with acting "patients" during Standardized Patient testing and spending time at local clinics with actual patients. In addition to these activities, VCOM offers Clinical Procedural Skills Labs that provide hands-on learning opportunities to develop the techniques that medical students will use throughout their education and careers.
Originally, these labs were somewhat informal. Students who attended were able to work with faculty on clinical procedures and ask questions. In recent years, VCOM–Carolinas faculty members Todd Zusmer, DO, Medical Director of Procedural Clinical Skills, and Chris Martin, Director of Simulation, along with Watson Edwards, BSN, VCOM–Virginia Director of Simulation; Linda Frasca, MD, VCOM–Virginia Discipline Chair of Underserved Care; and Fred Rawlins, DO, Vice Provost of Simulation and Educational Technology, have worked together to restructure these labs, developing the program into a truly integral part of each medical student's career.
The new framework begins with independent study. Students receive information about specific procedures and study to improve their understanding and vocabulary. A pre-quiz is conducted prior to the lab and reviewed when students come in to learn the procedure. Next, faculty members explain the procedure, going over all tools and techniques used before giving a complete demonstration. Students then work together to practice new skills. In small, informal groups, they use either manikins (for procedures like catheterization or airway management) or they practice on one another (for skills like taping, splinting and casting) to perform each newly learned procedure multiple times. Faculty is present to guarantee that students understand the methods and complications of the procedural skill so they can form an understanding for internship and residency. Once students have become proficient with a procedure, they are tested individually on technique, terminology, tools and even bedside manner. These tests are videoed so students can self-evaluate their performance afterward.
In 2014, Martin and a number of VCOM associates conducted a research study to explore the role of self-evaluating in student learning. This research was conducted in the Clinical Procedural Skills Lab setting and the findings were integrated into the program.
VCOM's dedicated faculty continues to research and develop this important aspect of the college curriculum for current participants and future classes.