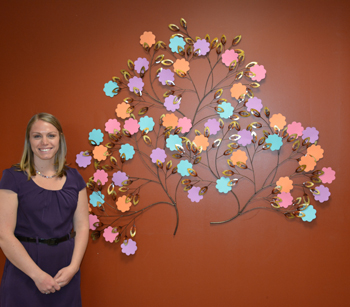 The Student Government Association (SGA) at the Edward Via College of Osteopathic Medicine (VCOM) set up a Giving Tree on the second floor of the main VCOM building. The Giving Tree serves as an "exhibit" that recognizes all of those who give back and help out at VCOM.
Kali Theis, Class of 2017, brought the idea for the Giving Tree back from the National Council of Osteopathic Student Government Presidents conference. She says, "There are so many people at VCOM that are lending a helping hand, providing support, and paying it forward, that I felt they needed to be recognized. VCOM has a wonderful family and I think that it's important to say thank you and to acknowledge everyone's hard work, whether it be a small task, such as making an extra copy of a study guide or something big like helping to plan an upcoming event."
Everyone can leave notes on the giving tree! It's a way to encourage each and every person who comes through VCOM, no matter what their title or status, to contribute to the "family" atmosphere VCOM creates.
Theis adds, "To me, the Giving Tree embraces what VCOM is all about. When I first visited VCOM's campus, I knew that there would be an overwhelming amount of support to help me make it through my four years as a medical student. Everyone, whether it be my fellow classmates, administration, or faculty, is constantly going out of their way to make sure that I am not only a successful student, but a happy person. Most people do these things with no expectation of anything in return, and it's not just for me, but they do it for every member of the VCOM family. Everyone truly wants to give back. So for me, the Giving Tree is a way to remind myself of why I joined the world of medicine, to give back."
Kortnee Koziara, Class of 2018, who also helped set up the Giving Tree says, "The giving tree embodies the true values of VCOM. When I first interviewed at VCOM, I knew that this was the place I wanted to train to become a physician, it's more than just a school, it's a family. Medical school is challenging in and of itself, but VCOM teaches you more than just the biochemistry behind medicine, they teach you how to relate to and understand others, whether that be in our future offices, at church, or the grocery store. The Giving Tree not only promotes these types of relationship, but it also fosters the relationships we all have built thus far."