Friday, February 17, 2017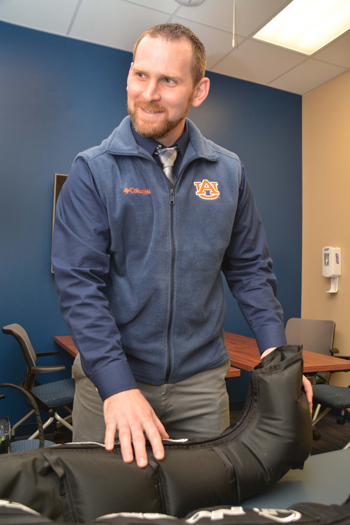 VCOM-Auburn's Jeffrey S. Martin, PhD, has received a $566,000 grant for a study on the effects of external pneumatic leg compression as an additional treatment for type II diabetes. Dr. Martin is the discipline chair for cell biology and physiology at the VCOM-Auburn campus. The grant for the study was awarded by the American Diabetes Association (ADA) under its Core Research Program Funding.
Dr. Martin's study is titled: the antiglycemic effects of a lower pressure external pneumatic compression device in type II diabetics: a molecular and applied investigation. Dr. Martin is collaborating on the study with Auburn University School of Kinesiology professor Michael D. Roberts, PhD, Darren T. Beck, PhD, assistant professor for cell biology and physiology at VCOM-Auburn and Neil Schaffner, MD, of Endocrinology and Metabolism of East Alabama.
Dr. Martin explained that this was a three-year project that would include approximately 40 individuals in the study. Funding for the study began January 1, 2017, and the study is currently underway. This grant was awarded as part of the ADA's Innovative Clinical or Translational Science (ICTS) Award. ADA ICTS awards are intended to support research with novel and innovative hypotheses, performed in human subjects, or research approaches to accelerate the transition of scientific discoveries into clinical application. As part of the ICTS award requirements, these studies must include human subjects and also offer considerable promise for advancing the cure, prevention or treatment of diabetes.
According to Dr. Martin, the study will examine the efficacy of an external pneumatic compression device as an add-on therapy with standard care for the treatment and management of non-insulin dependent type II diabetes. Dr. Martin said that the project would aim to evaluate the effects of daily, at-home treatment with a low pressure compression therapy system on glycemic control. Dr. Martin said that they would also aim to determine the mechanisms by which improvements in glucose handling are realized through evaluation of compression-mediated adaptive responses in cardiovascular and skeletal muscle physiology.
The external compression devices that will be employed in the study utilize leg sleeves, often referred to as boots, that inflate to ~70 mmHg. These sleeves are placed on the participants' legs, and extend from the toes to the hips. The sleeves will be inflated for one hour daily, and the study will last for 12 weeks.
Dr. Martin said that evaluations will be held for study participants at the beginning, or baseline, after six weeks of treatment, after 12 weeks of treatment and finally three months after the initial 12 week treatment is over.
Measurements will include continuous glucose monitoring, HbA1c (glycated hemoglobin), oral glucose tolerance testing, peripheral insulin sensitivity and vascular function and health.
Dr. Roberts noted that Dr. Martin had brought the lower-limb compression research to Auburn's campus, and that they had performed a series of studies observing that treatment improved intramuscular oxidative stress-related markers and facilitated recovery when used with weight training. Specifically, Dr. Roberts mentioned studies pointing to compression as reducing soreness and muscle breakdown. 
"Assuming that some of these same physiological markers are favorably altered when diabetics use the device, it may prove to be a novel treatment for managing diabetes," said Dr. Roberts.  "Importantly, this project is one of the many examples of the strong research ties the School of Kinesiology at Auburn University has with VCOM-Auburn," added Dr. Roberts.
Dr. Martin said that he had been interested in diabetes and metabolism research since his earliest exposure to the basic and clinical sciences. "This has been a focus area for me for the last eight years, and actually getting to this point is something I am very excited about," said Dr. Martin.
Dr. Martin said that he believed this type of research was an important priority for healthcare. "The prevalence of type II diabetes at present, and the projected burden throughout the world clearly identify metabolic diseases (e.g. diabetes, fatty liver disease, etc.) as a high priority area for continued innovation and research into effective therapies," said Dr. Martin. "We hope that the results of this study will guide future innovation and practice in the management of type II diabetes," he added.