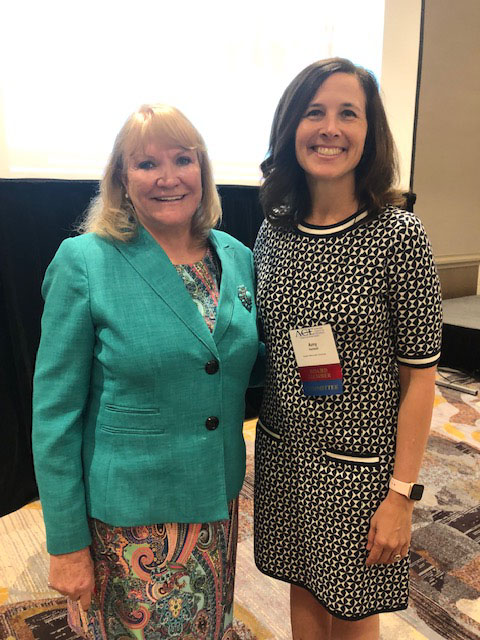 At the annual Virginia Women in Higher Education conference held today at James Madison University, the Virginia Network for Women in Higher Education named Dr. Dixie Tooke-Rawlins to receive its inaugural Outstanding Leadership Award.
The Virginia Network is one of more than 50 state networks created and supported by the American Council on Education's (ACE) Office of Women in Higher Education.  In 1977, ACE initiated an effort to identify and prepare more women for presidential positions.  Since that time, they have expanded their outreach to supporting women who are interested in other senior leadership positions such as deans, provosts and vice presidents. 
The mission of the Virginia Network is the same as the mission of the ACE Women's Network: to identify, develop, advance, and support women in higher education at the national, state, and local levels. A goal of the Virginia Network is to create opportunities for women to build relationships, strengthen leadership skills and grow professionally through all of our programs.
In 2018-2019, the Virginia Network chose to formally recognize and celebrate an outstanding woman leader from a Virginia institution. The Network established a committee and solicited nominations from around the Commonwealth. Twenty-nine nominations were received advocating for women who serve as role models to women, have a commitment to developing and fostering the empowerment of women leaders, and who exemplify leadership, success and service. 
Dr. Dixie Tooke-Rawlins was presented with the Virginia Network for Women in Higher Education's inaugural Outstanding Leadership Award.
Tooke-Rawlins is the founding Dean of the Edward Via College of Osteopathic Medicine (VCOM) in Blacksburg and currently serves the President and Provost. VCOM is a leader in educating women and women enrollment consistently exceeds 50%. In 2001 there had been no women medical school deans in Virginia, so she led the way. 
Her nominators advocated fiercely for her: 
"It is unusual to find a leader who is equally attentive to the lofty mission of their organization while maintaining an unwavering commitment to the individuals in the organization." 
"She has made the development of talented women within VCOM a priority which has resulted in females being promoted into prominent positions throughout the organization." 
She is the "voice for the voiceless." 
"Heroes and mentors are those altruistic people who do good deeds when nobody is watching. They don't want accolades or rewards yet quietly inspire others who do notice."
Accepting the award today, Dr. Tooke-Rawlins stated, "I was honored to receive the inaugural award from the Women in Higher Education in Virginia as there are so many deserving women to be recognized throughout our Universities in the Commonwealth. This will be an award to watch in the coming years, as we recognize those women who are leading education in Virginia. "
Dr. Tooke-Rawlins was presented with a beautiful piece of art by a Roanoke-born artist, the late Dorothy Gillespie. She was active and politically invested in the women's art movement.  She was co-founder of the Women's Inter-art Center in NYC, which was designed to bring the work of women artists to the public, and to provide facilities and instruction in all the art forms for women artists.