Wednesday, February 8, 2017
This weekend, the Student American Academy of Osteopathy (SAAO) at the Edward Via College of Osteopathic Medicine (VCOM) hosted an educational convocation event for students and faculty from each of the VCOM campuses in Spartanburg, South Carolina; Blacksburg, Virginia; and Auburn, Alabama. The event took place at VCOM-Carolinas in Spartanburg, and mirrored the national SAAO convocation held throughout the country annually.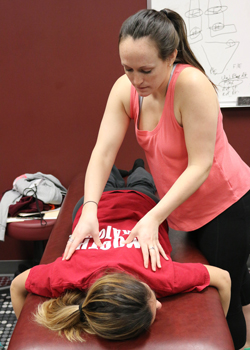 "The national convocation event allows students and faculty from around the nation to come together and learn techniques, theories, and approaches that they aren't normally exposed to," said Eric McLaine, Class of 2019 student and SAAO Education Chair. "Our thought was to have students and faculty from each of the VCOM campuses come together to learn and practice new techniques with peers and faculty that they don't often get to be around. This was a good opportunity to bring those with similar interests together in a close setting."
The VCOM SAAO Convocation began on the evening of Friday, February 3, with an informal open lab opportunity called "Stars & Stripes." This part of the event allowed students (the "Stripes") and physicians (the "Stars") to interact freely, discussing various conditions and treatments, and giving students the opportunity to learn techniques from the participating physicians.
On Saturday, February 4, the Convocation continued with breakfast and four formal workshops throughout the day. In each workshop, physicians focused on an established subject or group of techniques and students paired up to practice the techniques they learned. Students had the chance to ask final questions at a follow-up "Stars and Stripes" event following the fourth workshop.
"Students were encouraged to attend SAAO Convocation not only to practice and hone their OMM skills, but to experience the influence and styles of various faculty members they may not otherwise encounter," said McLaine. "Last year, I attended the national convocation as a first year medical student. In addition to what I had already learned in class, I experienced advanced techniques that further prepared and aided me throughout the remainder of my first year and even into my second year. It was an eye-opening experience, and really fueled the fire of my OMM interest. It is my hope that the VCOM SAAO Convocation had a similar impact on all the students who attended this weekend."
View photos of the event at https://vcomcarolinas.smugmug.com/Convocation-2017/