Wednesday, February 28, 2018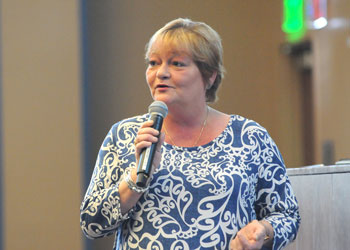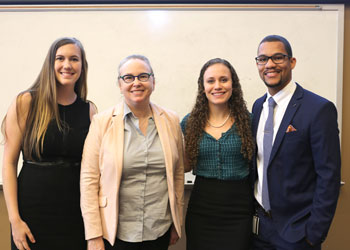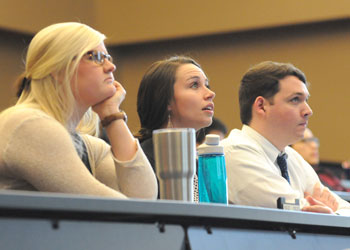 Imaging having no identification, no money, no personal possessions, no idea where you are or what time it is. You owe a huge debt to someone, have no way of paying it off and you are being held against your will. You are scared, depressed, malnourished, receive little to no routine medical care and you are physically and mentally abused regularly. We imagine a situation like this as one of hopelessness, cruelty and not something that would happen in the United States, the land of the free.
Sadly, human trafficking is happening every day in this state, this country and all over the world. It is estimated that there are more than 20 million human trafficking victims across the globe, where victims are forced to provide sex, labor or services against their will. Human trafficking is estimated to be a $150 billion industry. Especially shocking is that a victim might be traveling Interstate 85 through Auburn right this minute. According to Safe Harbor Youth Executive Director Lynn Caffery, Interstates 65, 85 and 20 in Alabama are major routes taken by human traffickers.
Caffery spoke to VCOM–Auburn students and faculty at a workshop held Saturday, February 17 to highlight the growing problem of human trafficking and to instruct attendees how to recognize and deal with victims. As a victim of human trafficking herself, Caffery had a remarkable story to tell of being abandoned as a baby, suffering hopeless, unspeakable abuse that led to running away from home, drugs, crime and eventually prison. Her story, however, took a turn in prison because of one person. A social worker took interest in Caffery, and told her that she saw something in her. That interest, an education and a newly-found Christian faith helped put Caffery on a road to redemption. "If it wasn't for the love of a social worker, I wouldn't be here today," said Caffery.
Caffery works in Huntsville, passionately directing a transitional living program for at-risk youth, providing them a chance for a better future. In her program, youth are provided a safe place to live, education and life skills to help them grow into productive, self-sufficient adults. She also works with the FBI and local law enforcement on training them in human trafficking identification. That's right, the former outlaw now works with the law. "People can change," said Caffery. "I work with police, lawyers and judges so kids don't have a (prison) number like I did," she added. 
Caffery emphasized that human trafficking does not discriminate when it comes to victims' social status. "I've had preacher's kids and lawyers kids," said Caffery. "Human traffickers don't care," she added. Caffery said it is hard to reach out to a trafficking victim, and that she tries to befriend them. "I had to have my mind reprogrammed," she said. "All you think about is survival," she added. "You see, when you're being trafficked, you're helpless," said Caffery. "You don't feel like anyone sees you as a person," she added.
According to Caffery, the most common age bracket for trafficking in Alabama is 12-14. She also noted that boys in addition to girls can be trafficked. Additionally, adults can be victims of trafficking. Caffery told VCOM–Auburn students that they would be on the front lines of combating human trafficking. "Where you are going in medicine, you will be the first responders," said Caffery. "You will identify the victims before law enforcement and before people like me," she added. 
Medicine and human trafficking are closely intertwined as, according to Melissa Peters, MD, more than 87 percent of victims will access healthcare services in the U.S. Peters, a pediatrician, educator and medical director at the Children's Hospital Intervention and Prevention Services (CHIPS Center) in Birmingham, briefed workshop attendees about the scope of the problem and about encountering trafficking victims in the clinical setting. Unfortunately, Peters said that the largest barrier to combating trafficking is the lack of awareness by healthcare professionals.
Peters said that trafficking is the fastest-growing criminal activity in the world as the victims are regarded as a "reusable commodity." Often traffickers will have the victims addicted to drugs, which makes them even more dependent to their "controllers." Peters said that medical practitioners must look for subtle clues when they suspect a patient is a human trafficking victim. Some indicators, according to Peters, would be a third party answering questions for the patient, multiple forms of identification, inappropriate clothing for the season and a patient that is unaware of their home address or the city they reside within.
Peters said that a good rapport with the patient sets the precedence for a medical encounter. She also emphasized the importance of input from all members of the medical team if human trafficking is suspected. Peters emphasized that registration, security or even housekeeping staff in the clinical setting might witness something that would be a clue to a trafficking situation. "You must have a culture where everyone is respected and heard in the clinical setting," said Peters. "Everyone who has any information must say something in the patient care briefing if you suspect a trafficking situation," she added.
Peters told a story to workshop attendees about seeing a female Hispanic patient with a child. The "father" was answering all of the questions, while the mother sat silently, with a terrified look on her face, clutching the child tightly. The medical team separated the mother from the man by requesting a chest X-ray for the child. The mother informed the medical team that she was being held against her will by the man. The child was admitted to the hospital as a precautionary measure, and the man eventually fled. "Don't limit yourself to just thinking about the patient, anyone with them could be a trafficking victim," said Peters.
Peters offered several online resources to educate medical caregivers about human trafficking. One is the Polaris Project at polarisproject.org. Another is the U.S. department of Homeland Security's Blue campaign at www.dhs.gov/blue-campaign. "You've got to know your local resources: hospitals, police, child abuse pediatricians and the national human trafficking hotline (888-373-7888) are all resources to help you triage patients that you suspect are being trafficked," said Peters.
"We learn to see things differently as medical care providers, and I hope this helps you to see things differently," said Peters to the workshop attendees.
The final speaker at the workshop was Kenneth Zouhary, DMD, MD, an oral and maxillofacial surgeon in the Auburn-Opelika area. Zouhary chronicled his medical mission work, and his efforts with Remember Nhu, an organization that works to end child trafficking.
Zouhary detailed the organization's work to provide large homes for at risk youth in foreign countries. Much like Safe Harbor, the children in these large foster homes learn life skills and receive an education. "We believe to end the industry, prevention is the best way to go," said Zouhary. He said that it would take 12 years to end the industry by cutting off the supply of child slaves.
"I can go on these medical mission trips, take out teeth and fix cleft palates, but even better, I can change entire lives by working with this organization," Zouhary said. Zouhary added that looking at his own children was the best motivator for his making a difference to end child trafficking. "When I think about the children in Thailand and parallel their lives with the lives of my kids, it just lights a fire in me," said Zouhary.
I am overwhelmed with all the information that has been presented today," said workshop attendee Steven Presley, MD, VCOM–Auburn EAMC Director for Student Medical Education. "For us, as physicians, seeing patients in the emergency room, this is incredibly helpful information," Presley added.
Amber Neal, a member of the VCOM–Auburn class of 2020, said she enjoyed hearing the speakers at the workshop. "It is one thing to learn about the victims of human trafficking and abuse, but meeting a trafficking survivor puts the experience in a different perspective," said Neal. "And, thanks to Dr. Peters, I feel as a student doctor I am now a lot more educated, and will be able to recognize and act in clinical practice when I come across a suspected trafficking victim," Neal added.
Hendrix and Victoria Lafontant, a husband a wife team from the VCOM–Auburn class of 2020, were instrumental in organizing the trafficking workshop. "Our vision with this training is to prove its importance and relevance to the medical professional, and hopefully have it incorporated into the curriculum here at VCOM as well as other schools across the country," said Victoria Lafontant. "Just as certification in basic life support and disaster management is expected of medical students, this training is the responsible way to prepare for any and all situations that may arise in future patients," she added.