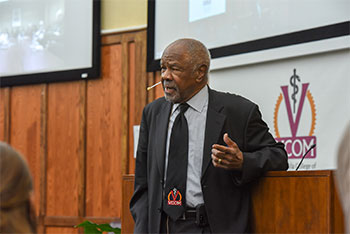 In honor of Black History Month, William G. Anderson, DO, presented the keynote address for students, faculty and staff at the VCOM-Virginia campus on February 26th. As part of the third annual William G. Anderson, DO, Black History Series. During the lecture titled "Why Black History," Dr. Anderson spoke about the importance of continuing to learn about black history and how today's medical students will become the leaders of tomorrow. "I was a leader. I didn't ask for it. It was expected of me. As doctors it will be expected of you all, too." said Dr. Anderson.
He shared about his civil rights work as a leader in the Albany Movement and a colleague and friend of Martin Luther King, Jr. Dr. Anderson was the first and only African-American president of the American Osteopathic Association and is a founding member of VCOM's board.
Dr. Anderson talked about the importance of black children having black role models in their communities. "If they see I came from conditions that were not ideal but still made a difference, they will know they can, too," said Dr. Anderson. "Most of us have to see people that look like us doing the jobs we want to do to have a full understanding of any career or role."
A World War II veteran, graduate of the Des Moines Still College of Osteopathy, successful surgeon, published author, faculty member at Michigan State University College of Osteopathic Medicine and associate dean of the Kirksville College of Osteopathic Medicine are just some of Dr. Anderson's many titles and achievements. Having recently celebrated his 91st birthday, Dr. Anderson sits on VCOM-Auburn's advisory board and is a vocal advocate for civil rights.