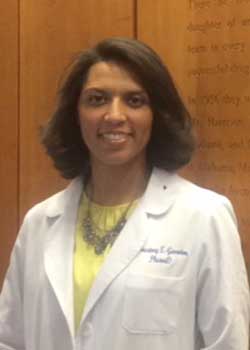 Nearly 77 million of the 85 million American adults living with prediabetes are unaware that they are currently at increased risk for the development of type 2 diabetes, heart disease, and stroke. Studies have demonstrated that by enacting lifestyle changes including moderate weight loss and increased physical activity, the risk for the development of diabetes is reduced by approximately 58%. The current barriers to improving the health of America's prediabetic population include the inability to efficiently and cost-effectively identify those at risk.
A new project at VCOM-Auburn aims to use an employer-based biometric screening program to screen and to recruit individuals with prediabetes into a diabetes prevention program. The goals of the project, Assessment of the efficacy and economy of an employer-based biometric screening program as a platform for diabetes prevention, are to: estimate, within a biometric screening program, the accuracy of a prediabetes screening tool for identifying individuals with prediabetes based on hemoglobin A1C; implement a diabetes prevention program for prediabetic individuals identified by A1C within an employer-based biometric screening program; and measure changes (at 6 months and 12 months) in modifiable diabetes risk factors for prediabetic individuals who participate in an evidence-based diabetes prevention curriculum.
Dr. Courtney Gamston, VCOM-Auburn Discipline Chair for Pharmacology, is the principal investigator, and her research team includes Dr. Annie Newton, VCOM-Auburn Assistant Professor, Nutrition and Auburn University collaborators Dr. Kimberly Braxton Lloyd, Dr. David Brackett and Dr. Richard Hansen of the Harrison School of Pharmacy. This 2016 Multidisciplinary Pilot grant was awarded by the University of Alabama Birmingham Center for Clinical and Translational Sciences, which is supported by the NIH National Center for Advancing Translational Sciences (NCATS) (UL1TR001417).
In this study, individuals participating in the biometric screening program will be invited to have their A1C measured. Those with an A1C of 5.7-6.4% (prediabetes range) will be invited to participate in the first 6 months of the evidence-based Diabetes Prevention Program curriculum available from the CDC and delivered by pharmacists and dieticians. A1C measures will be compared against baseline characteristics reported in the intake paperwork to estimate the accuracy of a prediabetes screening tool available through the CDC. The tool will be refined for this population based on the available data to improve sensitivity and specificity of the screening process. Clinical follow up to determine changes in baseline values will occur after 6 and 12 months of intervention. Participation in the educational curriculum will be assessed and the relationship with clinical outcomes will be examined.
The long-term goal of this proposal is to develop a sustainable model for prediabetes screening and diabetes prevention in order to decrease the burden of type 2 diabetes.