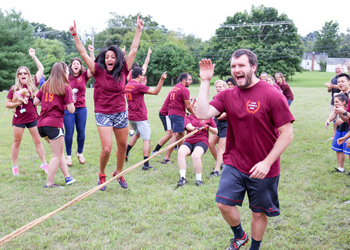 To kick off each academic year, the Edward Via College of Osteopathic Medicine (VCOM)–Virginia holds a competition between the first-year and second-year medical students in an effort to promote teamwork and enhance the family environment of the College. In 2016, the competition took on an addition to its title in order to honor a beloved late member of the VCOM family by officially becoming the VCOM Olympics – Frank Rocovich Championship.
In the opening ceremony of the games held on August 19, 2016, Tyler Rockwell, Student Government Association president, spoke of Frank and the many memories of him that the faculty and staff hold so dear.
"Frank had a heart of gold and sense of humor which could not be matched," said Rockwell. "Frank is remembered fondly for his compassionate interaction with students, faculty and families, as well as his commitment to the enrichment of campus life through a wide variety of sports, fitness and exercise, as well as social, cultural and spiritual events. "
It was his commitment to VCOM and love of involvement that compelled VCOM's students to dedicate the competition to Frank's memory. From kind words to loving memories, Frank spoke to what VCOM strives to represent.
"From the way people who knew Frank describe him, it is clear that he embodied what it means to be part of a family and look out for others as much as yourself," added Rockwell.
Once the opening ceremonies were completed, the class of 2019 and class of 2020 competed head to head in various events including tug of war, flag football, volleyball and soccer. While the class of 2020 started the day in the lead with a victory in the donut eating contest, it was the class of 2019 who ended the day as champions with a final overall score of 33 to 17.
John G. Rocovich JD, LLM, and Sue Ellen Rocovich, DO, PhD, were instrumental in founding VCOM and laying all the groundwork to establish the College. Their son, Frank, became a beloved member of the VCOM family as he was involved in all aspects of the College's endeavors.
Frank was born on March 23, 1982. He passed away during an accidental fall in his home on September 29, 2015. Frank was the Activities and Events Coordinator at VCOM-Virginia. He studied at Averett University and resided in Roanoke, Virginia.