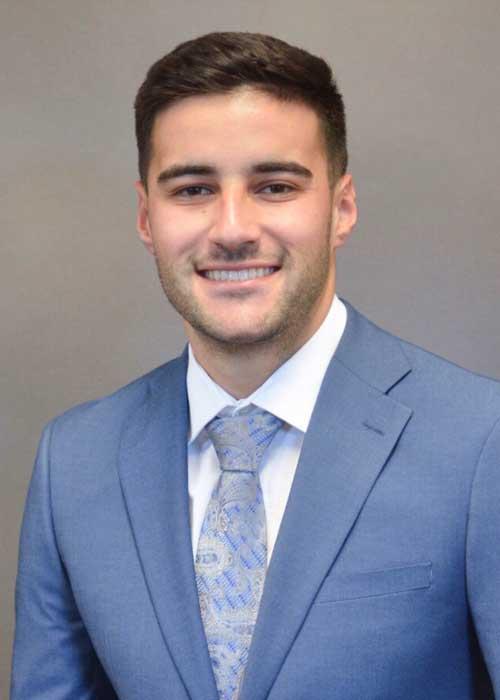 Prior School
: University of Central Florida
Degree
: B.A. Political Science
My best piece of advice to an incoming medical student is to be curious, be professional and internalize the experiences you'll have. Make friends in your class, have a life outside of medicine, take care of yourself and keep in touch with those you love and those who helped you get here. Lastly, no matter how difficult medical school can be at times, always remind yourself why you are going into medicine.
Who or what has inspired you while at VCOM?
While at VCOM, those who inspire me include both faculty members and my fellow classmates because we all have a story. We all come from different places, different cultures, different points in our lives and all have a different life and medical experiences; this is my favorite thing about VCOM in that they encourage this diversity. My class is all so supportive to one another too. I actually have a few friends in my class that went to the same undergraduate institution as me, the University of Central Florida. While interviewing at VCOM-Auburn, Dr. Gary Hill was one of the physicians to interview me for admission and since my admittance, I have kept in contact with him weekly about my academic progress. I go to him when I need advice and to have a casual conversation. He inspired me to take on positions like becoming an Ambassador for VCOM, which I tour prospective medical students around the VCOM-Auburn campus, participate in events for the school and represent VCOM and share my experiences as a medical student.
How has the VCOM mission-inspired you as a medical student?
The VCOM mission has inspired me as a medical student in preparing me in all dimensions. It has driven me to be a globally-minded student physician with the core curriculum, but the Global Health and Environment course, or Global Seminar especially. This is an extra course offered to enhance the student doctor's understanding of global health with collaboration of the other VCOM campuses and international medical schools in South America. After completion of this course, I was chosen to participate in my first-ever research project with a team assessing the significance of cultural competency of the many medical students involved in the Global Seminar course. It is being published in the Journal of the American Osteopathic Association, thus promoting research to improve human health. Lastly VCOM promotes community-focused physicians and I have noticed the many physicians who lecture us and teach us in the lab, focus on community health as that is where physicians are needed most. They inspire us to strive for prevention, health and wellness along with focusing on the tenets of osteopathic medicine.
Who or what inspired you to study medicine?
I was inspired to study medicine ever since shadowing the first time in emergency medicine. After shadowing in emergency medicine, I decided to shadow in other fields including critical care, physiatry and surgery. I picked up a job as a nursing technician in undergrad on the weekends, which provided me some fundamentals of approaching a patient and interacting with family members and the medical team. Medicine is all about collaboration and reminds me of a team sport. In addition, I have had a few more personal experiences in medicine with my close family members, adding positive feedback to make medicine something personal to me. It makes me more curious in the classroom, strive to do my best, provide empathy and compassion for my future patients.
Why did you choose VCOM?
I chose VCOM because of the many opportunities that they provided for the students and the motive of wanting the students to succeed. I wanted to be involved in activities outside of the classroom, but also wanted to do well in school. The open-door policies have helped me endlessly in times when I did not understand a piece of lecture material, thus the caring faculty members are always willing to help. VCOM provides students with board-style standardized patient encounters, simulation labs and clinical procedural skills to ensure students are ready for clinical rotations. In addition, as someone who holds a bachelor's degree in political science, I was able to attain research focusing on global health similar to the international relations pathway I was in as an undergraduate student.
What do you enjoy most about living in the area around your campus?
Living in Auburn has definitely been a positive experience. Auburn is home to the prestigious Auburn University which is affiliated with VCOM-Auburn. As a VCOM-Auburn student, we are permitted to utilize the Auburn University library, gym, recreation center, football games, etc. Auburn also features some many great restaurants, hiking at Chewacla State Park just minutes from VCOM and countless coffee shops for those early morning and late-night study sessions. The cost of living is also extremely reasonable and Auburn is an up and coming area with the many new projects around in town. Coming from someone who is from Florida, it was a very easy place to adjust to.
What do you like to do in your free time?
When I am up at school, I like to work-out at the local gym, watch Netflix, hang out with my fellow classmates, go to some of the local delicious restaurants and when it's football season, go to the Auburn University football games. I also enjoy hiking around Chewacla State Park. When I am at home, I enjoy swimming, going to the beach, boating and most importantly, spending time with my family.
Are you interested in a particular practice or specialty once you graduate? What has inspired your interest in this specialty?
I came to medical school set on doing critical care medicine through internal medicine, but after the many lectures from family medicine physicians, hospitalists, specialists including neurologists, cardiologists, etc. I decided to keep more of an open mind. The family medicine physicians have truly inspired me to consider this field as I have seen their crucial role in prevention, health monitoring and early disease detection. In block 3, neurology was extremely interesting too and inspired me to consider an elective rotation during my clinical years.