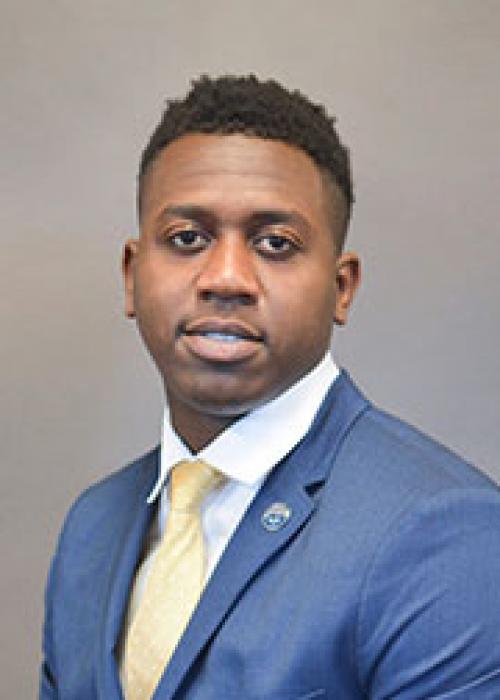 Prior School
: University of New Orleans
Degree
: Bachelor of Science, Biological Sciences
Hometown
: Baton Rouge, LA
The idea to produce capable and knowledgeable doctors to take care of rural-based communities speaks volumes to my character and beliefs. During my undergraduate degree, I worked in a New Orleans emergency department, where I witnessed firsthand the healthcare dilemmas.
Who or what has inspired you while at VCOM?One of my inspirations while at VCOM has been Dr. David Stephen, the Discipline Chair of Pathology and Histology. The first thing I learned from his class was pathology is the very foundation of medical science and practice. As the lectures continued, I began to understand the etiology of the diseases I've heard about prior to medical school. Dr. Stephen was a very stern professor who would not tolerate being late, nor not knowing the answers in his class. My very early medical school career was swiftly accelerated because I would spend hours preparing for his lectures. He was one of the few professors that called students by name to answers questions while in class. He would often tell us we are experiencing a cortisol rush whenever our pathology knowledge was tested in front of our peers. He inspired me to work hard and understand the concepts of medicine far beyond what was required for an exam.
His lectures were filled with inspiring, enthusiastic stories about his own time at VCOM and his pathology residency. He would often make jokes about complicated biomedical concepts in a way that would help me remember them. With comments such as "Remember this for the rest of your medical school career" and "Board examiners love to ask this question," I soon found my medical knowledge increasing each lecture drastically. Dr. Stephen made it a priority to assist students and encourage students in every possible way he could. I'll never forget the day of our final exam; he stood at the steps of the campus with a blow horn calling each student by name as they walked in, reciting encouraging words to them. He has inspired me to be the best medical student I can be each day. He is truly one professor I will never forget.
How has the VCOM mission-inspired you as a medical student?The VCOM mission inspired me before becoming a medical student. The mission is one of the sole reasons I chose VCOM in my medical education. Coming from an underrepresented background has allowed me to see the disparities in medicine and healthcare in my community. "To serve as an advocate of osteopathic medicine, rural health, mission medicine and affordable, accessible healthcare for the medically underserved." The idea to produce capable and knowledgeable doctors to take care of rural-based communities speaks volumes to my character and beliefs. During my undergraduate degree, I worked in a New Orleans emergency department, where I witnessed firsthand the healthcare dilemmas. Often patients would come to the emergency room for treatment of various medical conditions because they did not have a primary care physician to call their own. Often patients would complain about their inabilities to schedule appointments with their primary care physician while their pain prolonged. VCOM's mission to produce physicians is what the world needs today. I am proud to say that I have joined VCOM in making this mission a reality.
Who or what inspired you to study medicine?Before the age of eighteen, I had received over ten stitches on my face. Some might say I had a very active childhood, while others would say I have had a challenging life so far. Each of the three separate occasions, my mother was in a time of despair that her child wasn't smiling and happy. Parents often are in a state of vulnerability whenever their child is unwell or hurt. In each instance, I can say, a physician was there to take care of me. I would think to myself, how was it that one person could change the dynamic of a helpless situation. It was a simple choice to choose medicine overall because there's no other profession where you feel immediate gratification even amid a dire situation.
Why did you choose VCOM?Unlike many other medical school interviews, VCOM was focused on who I was as a person. They did not solely look at my statistics and place me in a category. In my interview, I felt VCOM cared about what I enjoyed and my mission in life. VCOM seemed very interested in helping me reach my career goals, which is one of the reasons I chose VCOM for my medical education. VCOM has felt like a family from the moment I stepped foot on campus. That is something you won't get everywhere, and I'm glad I found it here in Auburn.
What do you enjoy most about living in the area around your campus?Coming from Baton Rouge, Louisiana, it was initially hard to cheer for a rival SEC team. From the moment I drove into town, I was soon enlightened how much the city loves Auburn sports. The entire city shuts down on gameday in support of Auburn athletics. Its an experience everyone should witness at least once in their life. Whenever I am not studying, I attend the basketball and football games to root for the Tigers. I told myself the Auburn Tigers are still Tigers, so technically, I am still rooting for the right team.
What do you like to do in your free time?In my free time, I like to play basketball and chess with some of my classmates. When I play for a moment, I forget all of the pressures and responsibilities that come with the rigorous study schedule of a medical student. Basketball gives me a sense of relaxation while increasing my heart and respiratory rate. Basketball and chess both are strategic games that allow me to use my wit and ability to outcompete my opponents. The mind is a terrible thing to waste, and even in my free time, I enjoy using every aspect of it. During my undergrad, I was a Division I basketball player at the University of New Orleans. After multiple rigorous biology courses, I was left to make a life-changing decision on whether to pursue my dream of becoming a medical doctor or continue playing collegiate basketball with hopes of reaching the NBA. I often tell the joke, "Well, I'm not six foot seven with a 7-foot wingspan, so I had no other choice". But in reality, the idea of changing lives from a medical perspective was mind-blowing. It was one of the easiest decisions of my life. I still keep in contact with my professional athlete friends and tell them, "We may have taken different roads to get there, but I'll see you courtside at the game." Whether I specialize in sport's medicine and become a team physician or specialize in orthopedic surgery and heal athletes, my love for the game will always be there.
Are you interested in a particular practice or specialty once you graduate? What has inspired your interest in this specialty?Ophthalmology is my dream specialty. I was fortunate to participate in a Research Experience Undergraduates funded by the National Institute of Health. During my ten-week experience, I worked on a project studying the process of nerve regeneration in the cornea using growth factors in conjunction with pigment epithelial-derived factor. It sparked my interest in vision and the numerous aspects that are involved in making it happen. I soon began to think of a life without sight and wondered how this could be a life-changing moment if I were able to reverse it. Helping someone correct their vision is my dream. I worked in the Neuroscience Center of Excellence at LSUHSC School of Medicine under Haydee E.P. Bazan, PhD, and I was cited in a publication published in both the National Institute of Health and the Association for Research in Vision and Ophthalmology.