Featured Video
Honoring Our Osteopathic Heritage
  Campus Updates
VCOM–Carolinas CMDA hosts Rick Donlon, MD for encouraging talk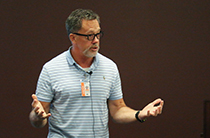 VCOM–Carolinas' Christian Medical and Dental Association (CMDA) hosted a talk by Rick Donlon, MD on October 8. Dr. Donlon, a 1986 graduate of Texas Christian University, earned his medical degree from The Lousiana State University Health Sciences Center School of Medicine New Orleans. With three of his LSU-NO classmates, he started Christ Community Health Services in Memphis, Tennessee, a health clinic in one of the city's most underserved neighborhoods, and later went on to found similarly-missioned Resurrection Health. Dr. Donlon's talk, "Triumph from Weakness, Christian Healthcare in an Age of Fear," recounted some of his personal history as a Christian doctor with a mission to serve the poor and encouraged CMDA members to begin planning their careers with a similar focus.
PRIDE in Healthcare Presents "General Bias" Workshop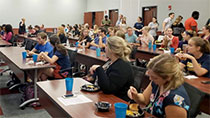 On October 1, PRIDE (Promoting Recognition of Identity, Dignity, and Equality) in Healthcare, in partnership with the student chapters of the American Medical Women's Association (AMWA) and Student National Medical Association (SNMA) at VCOM–Carolinas, presented their first in a series of four workshops on bias in healthcare. The presentation, "General Bias" was intended as an introduction to this complex topic. Wofford College Assistant Professor Rhiannon Leebrick, PhD, presented an examination of the nature of bias and how future physicians may encounter it. She provided the attendees with a framework of the types of bias, basic strategies to use when bias is in ourselves at work, and suggestions for dealing with bias encountered. The workshop was attended by over 60 students, faculty and staff members.
VCOM-Carolinas Hosts Ultrasound Clinic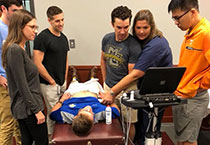 On Wednesday, September 5, the American College of Osteopathic Emergency Physicians (ACOEP) student chapter at the Edward Via College of Osteopathic Medicine (VCOM)–Carolinas campus hosted an Ultrasound Clinic. The event focused on ultrasound orientation as well as teaching the FAST exam (Focused Assessment with Sonography for Trauma). The limited-availability course was taught by SonoSite Ultrasound representatives as well as VCOM's own Lynn Campbell, DO.
VCOM-Carolinas Hosts Stress-Relieving Ice Cream Social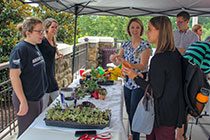 VCOM-Carolinas' Christian Medical and Dental Association (CMDA) and the Mental Health Awareness Task Force (MHATF) partnered to host a stress-relieving break for the new first year students at the end of their first week of medical school. CMDA members served ice cream and mingled with new students as MHATF lead a therapeutic session of succulent planting. It was a relaxing opportunity to unwind and to make connections with these organizations.
VCOM–CC Class of 2019 Residency Fair and OMM Labs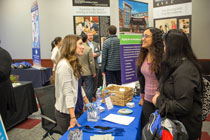 On Tuesday, March 13, a Residency Fair was held at the VCOM–Carolinas campus. Representatives from AnMed Health, Charleston (WV) Area Medical Center and more came with information concerning residencies for Class of 2019 students, who were on campus that day for OMM labs. Students came to the Fair looking for programs in their individual specialties.
Blacksburg, Virginia - VCOM students provided the local community with basic healthcare checks and information at the 2018 Health and Wellness Fair sponsored by AARP. At the...
Recent News
Pages