Featured Video
Honoring Our Osteopathic Heritage
  Campus Updates
VCOM-Carolinas Hosts Stress-Relieving Ice Cream Social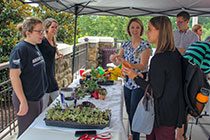 VCOM-Carolinas' Christian Medical and Dental Association (CMDA) and the Mental Health Awareness Task Force (MHATF) partnered to host a stress-relieving break for the new first year students at the end of their first week of medical school. CMDA members served ice cream and mingled with new students as MHATF lead a therapeutic session of succulent planting. It was a relaxing opportunity to unwind and to make connections with these organizations.
VCOM–CC Class of 2019 Residency Fair and OMM Labs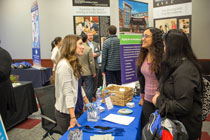 On Tuesday, March 13, a Residency Fair was held at the VCOM–Carolinas campus. Representatives from AnMed Health, Charleston (WV) Area Medical Center and more came with information concerning residencies for Class of 2019 students, who were on campus that day for OMM labs. Students came to the Fair looking for programs in their individual specialties.
VCOM-Carolinas A Day in the Life of a Medical Student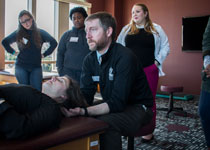 On March 2, VCOM-Carolinas Admissions hosted a day full of events for prospective and incoming students, with an open house themed as "A Day in the Life of a Medical Student." Following a welcome by Timothy J. Kowalski, DO, FACN, VCOM-Carolinas Dean and a lecture from Ronald Januchowski, DO, Associate Dean for the Curriculum, several concurrent sessions took place, with students rotating every 15 minutes. Prospective students were treated to "Introduction to Osteopathic Manipulative Medicine," with Jeff Cashman, DO, Chair of Family Medicine, "Anatomy Lab/Dissection of the Human Body," with Lance Paulman, PhD, Chair of Anatomical Services, and more, wrapping up with a question and answer period led by Erin Helbling, MEd, Director of Admissions.
VCOM's President Selected as ACOFP Lifetime Achievement Award Winner
VCOM's President and Provost, Dixie Tooke-Rawlins, DO, FACOFP, was selected as the American College of Osteopathic Family Physicians' (ACOFP) Lifetime Achievement Award winner. She will be honored at the ACOFP's 55th Annual Convention & Scientific Seminars March 22-25, 2018 in Austin, Texas.
VCOM–Carolinas Annual SOMA Gala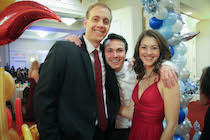 The Student Osteopathic Medical Association (SOMA) held its annual Gala at the Spartanburg Marriot on February 3. With its "Fire and Ice" theme, the event attracted over 300 students, faculty and staff. The Gala featured a raffle with items donated by the South Carolina Osteopathic Medical Society (SCOMS), 3M, BMW and a variety of other local businesses, with proceeds benefitting St. Luke's Free Medical Clinic in Spartanburg and a free clinic at the Gaffney Senior Center.
As part of black history month events at VCOM–Auburn, a minority physician panel discussion was held Friday, Feb. 16 in the VCOM–Auburn multipurpose room. A group of six physicians answered student...
Recent News
Pages